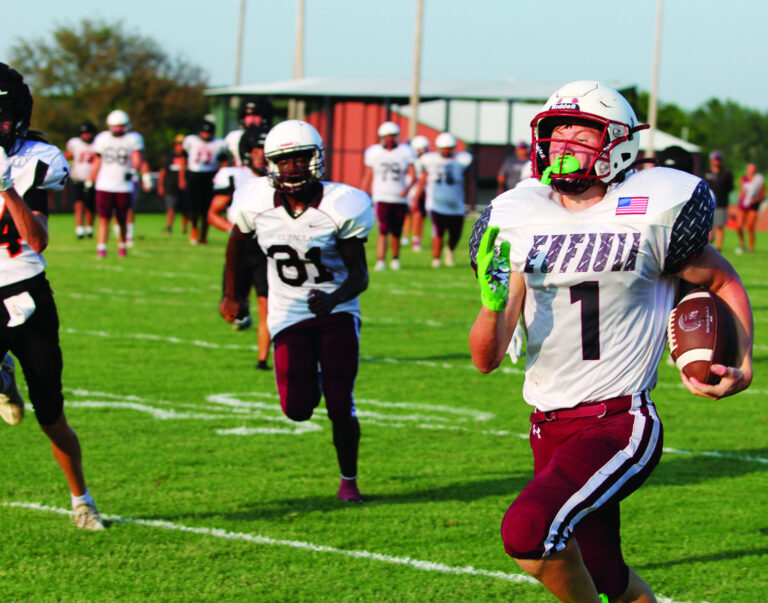 Ironheads' defense looking the part in Morris Scrimmage
The Eufaula defense looked the part in Friday's football scrimmage at Morris. Eufaula had numerous players stand out Friday in Rashon Watts, Draven Gragg, Blayton Neil, Trevor Dodd, Bryan Lynn and Conner Mcallister.
The biggest concern for the Ironheads is who will start at quarterback. Luke Hodgins showed fragments that he could play the position, especially if the line gives him time to throw the football. Koltyn Lane and Ledger Folsom also had moments against the Eagles. We may not know who the starting quarterback is until the regular season kicks off against Vian. What Eufaula does have is a great corps of receivers in Maddox Bridges, Peter Lee, Kaden Rice.
Eufaula had two long touchdown runs called back due to holding penalties.
"This was rough. We made too many mistakes. But that's what scrimmages are for, it lets us correct them here and not in a real game. I thought we had some moments where we looked pretty good but for the most part we have a lot of work to do," Eufaula head coach Larry Newton said.
Eufaula will scrimmage Thursday at Paul Bell Stadium against Warner at 6 p.m.