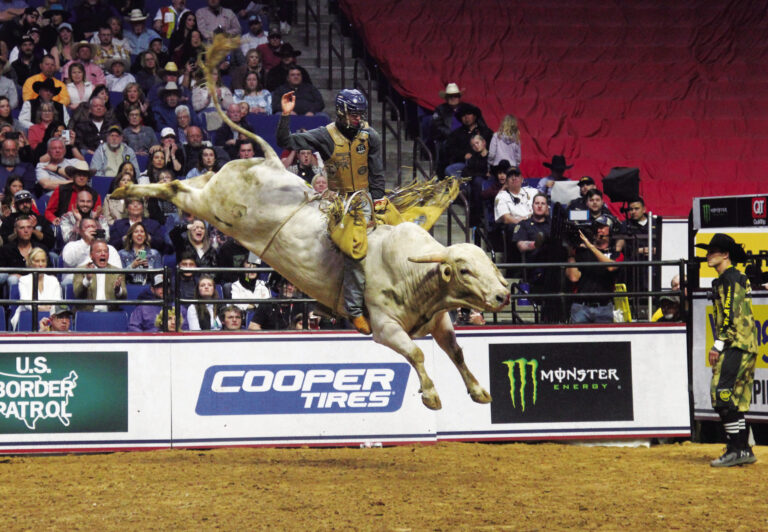 Oklahoma Freedom go 2-1 in Game Play at PBR Camping World Team Series
As the 2023 PBR (Professional Bull Riders) Camping World Team Series continued in Nashville, Tennessee, the Oklahoma Freedom went 2-1 in game play, before being shutout in Extra Outs, to conclude the event tied for second, rising to No. 2 in the league standings.
During the opening night of PBR Stampede Days, the Oklahoma Freedom took on the Carolina Cowboys, seeking their third consecutive game win. Courtesy of a crucial 86.75-point ride from opener Thiago Salgado, the Freedom defeated Carolina by 0.5 points, 86.75-86.25.
The Freedom then won their fourth straight game in front of a sold-out Saturday night crowd when they toppled the Missouri Thunder 88.75-0. The victory was once again earned via a crucial opening 8-second effort from Salgado.
On Championship Sunday, the Freedom then looked to conclude PRB Stampede Days with a perfect 3-0 record as they took to the dirt against the Texas Rattlers in bull riding's version of the Red River Showdown. However, despite Salgado again delivering in the lead-off position and Captain Eli Vastbinder converting in the fifth, it was not enough to holdoff a walk-off win by the Rattlers. Courtesy of their closer's 89.75-point ride, the Rattlers defeated the Freedom by 2 points, 177.75-175.75.
With the Freedom and five other teams all going 2-1 in game play, PBR Stampede Days ended in extra outs. With the selection and buck order determined by the team's aggregate performance inside Bridgestone Arena, the Freedom were awarded the third pick.
They paired Salgado with Mind Hunter in Round 1, and would look to Vastbinder atop Rorschach, and Alex Cerqueira on Salty Brindle should Extra Outs continue into Round 2 and Round 3, respectively.
After Salgado was brought down in 5.81 seconds, a score from the Outlaws proved event winning.
Concluding PBR Stampede Days tied for second with a 2-1 record, the Oklahoma Freedom are now 7-3 this season. They rose from No. 3 to No. 2 in the league, now just two games back of the No. 1 Austin Gamblers PBR RidePass on Pluto TV will offer replays of all the PBR Camping World Team Series action from Nashville, Tennessee. Check https://pluto. tv/en/live-tv/pbr-ridepass for the latest programming schedule.
The PBR Camping World Team Series will next travel to the Moody Center in Austin, Texas, for the third team-hosted event of the 2023 season. The event will be on Friday, August 25, at 7:45 CDT, Saturday, August 26, at 6:45 p.m. CDT and Sunday, August 27, at 1:45 p.m. CDT.
Nashville Team Standings: Here are the final Team standings for the Nashville PBR Camping World Team Series' Stampede Days: 1. Kansas City Outlaws, 2-1-0-626 2. Texas Rattlers, 2-10-612.75 Oklahoma Freedom, 2-1-0-351.25 Austin Gamblers, 2-1-0-263 Nashville Stampede, 2-1-0-178 Arizona Ridge Riders, 2-1-0-171.75 7. Carolina Cowboys, 0-3-0-345 8. Missouri Thunder, 0-3-0-85 PBR Teams Season Standings:
Here are the current Team standings for the regular season after the conclusion of competition for PBR Stampede Days in Nashville: 1. Austin Gamblers, 9-1-0-1,658.25 2. Oklahoma Freedom, 7-3-0-858.75 3. Kansas City Outlaws, 6-4-0-1,667.5 4. Texas Rattlers, 5-50-1,743.25 5. Carolina Cowboys, 5-5-0-1,484.25 6. Arizona Ridge Riders, 2-8-0-781.75 7. Missouri Thunder, 2-8-0-693.75 8. Nashville Stampede, 2-8-0-608.5