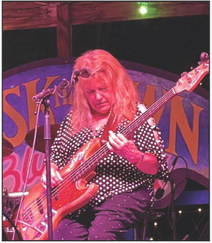 33rd Annual Dusk 'til Dawn Blues Festival starts Friday
If it's Labor Day Weekend, it must be time for the Rentiesville Dusk 'til Dawn Blues Festival, a Blues extravaganza that any Blues fan won't want to miss.
"We now have 50 bands on three different stages over a period of three days," says Selby Minner, who with her late husband Blues legend D.C. Minner started the Blues Festival in the community of Rentiesville, just north of Checotah. "All these musicians are our friends and have helped us out by playing in jam sessions or at events. They really do want to be part of this year's festival so we are bringing them all in! They will definitely bring the party!"
Gates open at 4 p.m. and stages start to come alive by 5 p.m. with the two outdoor stages playing until midnight or later.
The indoor stage at the Juke Joint starts at 6 p.m. and will continue until 5 a.m. so bring your dancing shoes.
"We present a regional showcase of Oklahoma bands who you are sure to know, and we are bringing ìn people from several other states, including California, Mississippi, Washington DC, Kansas, Texas, Colorado, Louisiana and more," Minner said.
Artists appearing over the weekend in addition to Minner, will include Watermelon Slim, Okla Ollie, Hammbone, James Slaw Band, Shy Willie, Brad Duvall Band, Last Call and many, many more.
Tickets are $20 per day and kids, 12 and under, are no charge with a paying adult.
Minner believes in the arts and is constantly working to promote them in the surrounding communities.
"We believe our five point program helps to keep this music alive and rolling into the future," Minner said. "First – we 'Teach the Babies' with music lessons which we give at local libraries. Second – we 'Honor the Elders' by nominating them to the Oklahoma Blues Hall of Fame. Third – we 'Employ Those Playing It Well' like at our Blues Festival. Fourth – we 'Document' like we did for the virtual Blues Festival with 20 Oklahoma bands. Fifth – we 'Network' that's why we run a Sunday Jam Session every week. Currently it is in its 12th year. This brings musicians together to share their music and talent with each other and it brings connections that lead to jobs. We also have a non-profit group called Friends of Rentiesville Blues Inc. It literally takes a village but we are still keeping the Blues alive and preserving our heritage along the way."
For more information about this weekend's lineup go to www. dcminnerblues.com.