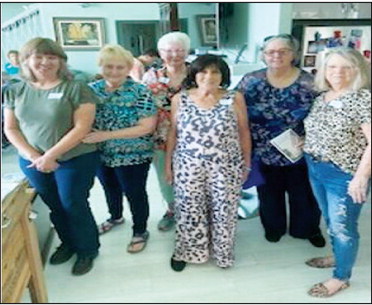 F.L.E.A.S. summer news
In place of the July meeting many members traveled to Atoka to visit and enjoy lunch at Reba's Place.
A delicious lunch, entertainment, touring the gift shop and visiting was enjoyed by all.
The Aug. 22 meeting was at member Gay Dawn Fuhr's lake front home.
President Kay Rogers conducted the business meeting.
Good news and updates on members and their family in need of encouragement and prayer was shared.
A delicious pot luck lunch was served.
Gay Dawn's husband fried fresh caught fish as the main course. Homemade ice cream added to the delicious dessert bar.
Door prizes were awarded and the 50/50 raffle was drawn.
The September meeting will be held at the VFW on Monday, Sept. 11 at 10 a.m. for social hour, 11 a.m. meeting and noon lunch.
Lori Fullbright, Tulsa Channel 6 Anchor will be our guest Keynote speaker.
The public is welcome. The cost to the public is $15 per person.
Guests are welcome. All interested in attending must participate in lunch and the fee is $12.
Please RSVP to Kay Rogers @ 405-202-9874 or Carol Evans @ 918689-6346.
If you are interested in learning about our organization, meet new friends and help in the community by supporting the Backpack Program, scholarships, Veterans and women's shelter to name a few or just have a day out playing canasta, bunco, doing crafts or enjoying an excursion, please plan to attend one of our monthly meetings on the 4th Tuesday of each month.
Location is determined by the hostesses.