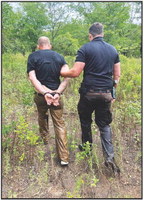 Foot chase turns into swim meet
Fugitive arrested in the lake
A suspect wanted on several felony and misdemeanor charges was arrested recently after reportedly attempting to get away from lawmen by jumping into the lake and swimming away to avoid capture.
Randall Scott Waters, 44, of Checotah has been booked into the McIntosh County Jail and will appear at a pre-preliminary conference at 9 a.m.
on Sept. 20.
He faces charges of escape from arrest or detention; two counts of obstructing officers; three counts of burglary and one of malicious injury to property under $1,000.
Associate District Judge Brendon Bridges entered a plea of not guilty on behalf of the suspect and set bond at $100,000.
On the day of the swim meet, Aug. 14, McIntosh County Investigator Matt Youngblood received information that Waters might be in the Oakwood Harbor South area west of Checotah.
Youngblood, Investigator Dalton Thomas and Zachary Todd drove to a residence in Oakwood Harbor and when they arrived at the location Waters was seen running from the house, according to a Probable Cause Affidavit.
Waters reportedly ignored orders to stop.
"I gave chase of Randall (Waters) through the woods for approximately 100 yards to where we reached a cove that was full of water," Youngblood stated in his Probable Cause report.
He observed waters enter the water and begin to try to cross the cove.
"I pulled my duty pistol from my holster due to Randall (Waters) having a black object in his hand. I ordered Randall to show me his hands due to him repeatedly putting his hand under the water. Randall then dropped the black object into the water and stood still," Youngblood said.
He and Waters stood in waist deep water until Thomas and Tallon arrived to help restrain the suspect.
In June, Waters was charged with burglary after he was seen on a surveillance video allegedly breaking a lock on the door of a shed on property in Checotah.
In July he allegedly fled after being taken into custody by Deputy Bradley Smith.
On Aug. 6, Smith and Deputy Scott Pedley reported to the scene of an alleged burglary in Oakwood Harbor South.
Waters allegedly was viewed on a ring camera for home security leaving the residence with a trashcan full of root beer, Dr. Pepper, Coke and Diet Coke.