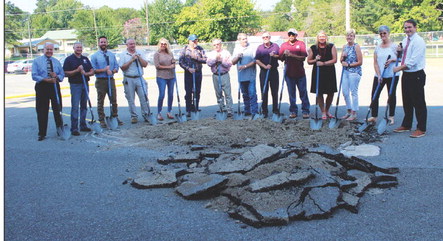 Ground broken for courthouse expansion
fudge Bridges praises the decision
Ground was officially broken last week on the $6.2 million renovation and expansion of the McIntosh County Courthouse.
Work on the project is expected to take from 10 months to a year.
It will be paid for using funds approved by voters in 2006, according to County Clerk Deena Farrow and District 2 County Commissioner Monty Grider.
The voters approved a halfcent county sales tax to build a jail and for courthouse improvements. The tax was to be in effect for 20 years, expiring in 2026.
The jail was paid for in May, 2022, according to Grider, but no money has been spent on courthouse improvements until now.
City officials, county commissioners, courthouse workers, building contractors and a host of others attended the groundbreaking, held Wednesday, Aug. 23.
Extensive remodeling and renovation will take place throughout the old courthouse, built in 1926-1927 at a cost of $100,000, to bring it upto- date. When completed, there will be a 10,000 square foot, three-story addition to the west side of the building, the bottom floor of which will serve as protection for the public from tornadoes with a capacity of more than 400.
The west wing will add about 30 percent to the courthouse floor space.
Architect Duane Mass designed the project, with the history of the building in mind.
The construction manager will be Travis Williams, with Williams Contracting in Muskogee.
Associate District Judge Brendon Bridges was the keynote speaker for the groundbreaking.
"It is an honor to be here today celebrating the beginning of such a monumental investment in our future," Bridges said.
He recognized many of those in attendance who made the project possible, including current and past commissioners and many other city, county and state officials.
"These are all good men and women from all over our county," Bridges said. "What brings them together, us together, is this courthouse.
"As degraded as it might sometimes get, it brings us together as a community.
"As I look and see those that participate in the day to day operation, I want to say that we are proud of you. Today we send a message, it is a message of belief that on this day we believed in our country, our state and most importantly we believed in McIntosh County.
"Make no mistake, the truest sign of support is investment. Actions over words. Your commissioners deserve a lot of credit in this. Your public facility authority, your county clerk, all of your public officials are showing their faith in our future by proceeding forward on these improvements.
"They are showing that despite these trying times of wars, pandemics, and recessions; they are showing by their actions the belief that their children and their grandchildren will still have someplace to call home years from now.
"They will have a place to vote and have votes counted; it will still be a noble ambition to be in an elected position and serve our country and most importantly there will be a place on the third floor (the courtroom) to protect our constitutional rights and norms for generations to come.
"The decision to make these improvements, to go forward, to take the scrutiny, that is not the easy road, but as John F. Kennedy might have said, 'We're not making these improvements because it's easy but because it is hard … because it is right.'
"Now is the time and it is the right thing to do."
Bridges recounted some of the history that has surrounded the courthouse.
"Women's right to vote happened in 1918, and only eight years later this courthouse was built.
"We've had the Dust Bowl, a depression, two world wars, segregation, a housing crisis, the pandemic – it all adds up, but we are still standing. "Yes, our courthouse shows signs of wear and tear. So does our democracy and the question we've got to answer is 'What are we going to do about it?' It's easy to see how we've let this building decay … it's not just about improving an old building, it is about improving and sending a symbol that this is one of the most obvious symbols of our democratic values.
"It is a statement to our children, our future, that we refuse to let wear and tear turn into decay. We are not just one community. Mc-Intosh County is many communities … these communities help shape who we are as a society. Yes, we have differences. Yes, we have friendly rivalries. Nevertheless, we have a lot in common; we believe in our county and hard work in helping our neighbors; we believe in principles that we are only as strong as our weakest link.
"I hope that this day is remembered and let this courthouse and these improvements be a remembrance, a symbol of what unity is to us; let this be a symbol of unity; one nation, one county under God.
"Let these improvements be a message to our children and our grandchildren of the importance of democracy and how much we view the importance of democracy by improving one of its biggest symbols in our county."