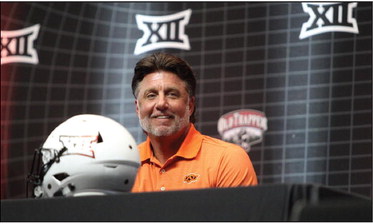 Gundy ranked as the No. 17 best coach in college football
CBS Sports ranked Oklahoma State football coach Mike Gundy as the No. 17 best coach in the nation. Gundy was ranked No. 10 in the same poll last year. Other Big 12 coaches rankled were TCu's Sonny Dykes at No. 11 and Chris Klieman of Kansas State at No. 12.
Gundy, 55, has been the head coach at Oklahoma State since 2005. The Cowboys have attained an overall 156-75 (.675) mark during his tenure, including nine AP Top 25 finishes. Oklahoma State has participated in 17 straight bowl games, including five New Year's Six Bowl games since the 2009 season.
The Cowboys finished Gundy's 18th season on a three-game losing streak, capped with a 24-17 loss to Wisconsin in the Guaranteed Rate Bowl, but the 7-6 season continued Gundy's streak of 18 consecutive seasons with a bowl appearance.
In March 2022, Oklahoma State announced changes to Gundy's contract, making him the highest-paid head coach in the Big 12 with an yearly earning of $7.5 million.
Here's where Oklahoma State's 2023 Power Five opponents rank in CBS Sports' head coach rankings: No. 12 Chris Klieman (Kansas State) No. 23 Lance Leipold (Kansas) No. 34 Gus Malzahn (UCF) No. 35 Matt Campbell (Iowa State) No. 41 Kalani Sitake (BYU) No. 48 Dana Holgorson (Houston) No. 52 Brent Venables (Oklahoma) No. 54 Scott Satterfield (Cincinnati) No. 59 Neal Brown (West Virginia) No. 65 Kenny Dillingham (Arizona State) And here's where the all Big 12 coaches rank in order for the updated CBS Sports' rankings: No. 11 Sonny Dykes (TCU) No. 12 Chris Klieman (Kansas State) No. 17 Mike Gundy (Oklahoma State) No. 23 Lance Leipold (Kansas) No. 28 Dave Aranda (Baylor) No. 34 Gus Malzahn (UCF) No. 35 Matt Campbell (Iowa State) No. 37 Steve Sarkisian (Texas) No. 41 Kalani Sitake (BYU) No. 46 Joey Mc-Guire (Texas Tech) No. 48 Dana Holgorson (Houston) No. 52 Brent Venables (Oklahoma) No. 54 Scott Satterfield (Cincinnati) No. 59 Neal Brown (West Virginia)