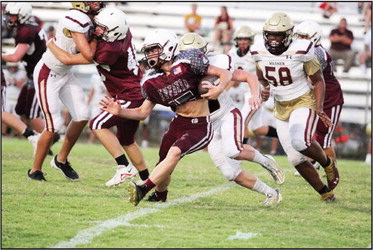 Ironheads name quarterback after Warner Scrimmage
The Eufaula Ironheads have named the starting quarterback after Thursdays scrimmage against the Warner Eagles. Sophomore Ledger Folsom will get the start this Friday against Vian. Folsom, 5TO", 165-pounds, showed enough productivity to offensive coordinator Josh Luna and head coach Larry Newton to get the start.
The Ironheads displayed their stable of running backs against the Eagles. Peter Lee had three long runs that mirrored Barry Sanders.
On two runs it looked like everyone on Warner had at least two chances to tackle who danced through the defense. Freshman Koltyn Lane also had a big night. The 5'11", 175-pound freshman had several great carries. Both Lee and Lane combine for a 1-2 punch for the Ironheads.
Warner's quarterback made several long throws against the Ironheads secondary. On one play Maddox Bridges out jumped the receiver and pulled down the interception. The defensive line continued to show that they are