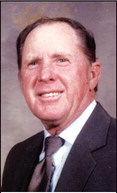 Obituaries
August 31, 2023
Joe Edd Humphrey
Joe Edd Humphrey, 89, of Morris, entered Heaven's gates on Thursday, Aug. 24, 2023. He was born on Friday, March 9, 1934 to Harrison Clark "Sevear" and Mary Viller (Fitch) Humphrey in Pierce, Oklahoma. Joe grew up in Pierce and graduated from Pierce High School in 1953.
He married Robbie Faye Cagle on Oct. 10, 1952. Together they farmed and ran their ranch in the Pierce area until Lake Eufaula came in and they moved towards Morris, where they continued their farming and ranching endeavor.
Joe was a long standing member of the Oklahoma Cattlemen's Association and the ATA he helped start. He was a charter member of the Trinity Baptist Church of Morris.
March 9, 1934 – Aug. 24, 2023
Joe was also a US Army veteran. At the time of his passing, he and Robbie were married 70 years. Joe enjoyed spending time with his grandkids. He liked everybody and was an easy-going guy. Joe enjoyed the holidays. They formed a friend family and got together every Friday night and would travel together. They would swap the holidays together.
Joe was preceded in death by his parents, brother, Roy Humphrey; sister, Bernice Prater; nephew, Randy Waller; sisters-in-law, Anna Lee Cagle and Joyce Buie.
He is lovingly survived by his wife Robbie of the home; son, Rocky Humphrey and wife Christie; son, Mark Humphrey and wife Lori; grandchildren, Shawn Guthrie and wife Carlene; Joshua Humphrey, Levi Humphrey; Colt Humphrey; Ryan Humphrey and wife Shannon; greatgrandchildren, Bailey; Caylee; Teygan; Maddox; Kynslie; Kyleigh; Elizabeth; and extended greats, Braden, Daxton and Macie; brothers-inlaw, Melvin "JR" Cagle and David Buie. Joe is also survived by a host of extended family and a lifetime of friends.
The family would like to thank Amara Home Health and Choice Hospice for the wonderful and compassionate care that they provided to Joe during his journey.
Viewing was Tuesday, Aug. 29, 2023 from 12 p.m. to 6 p.m., with friends and family visitation from 4 p.m. to 6 p.m. at Garrett Family Funeral Home Checotah. Funeral service was Wednesday, Aug. 30, 2023 at 10 a.m. in the Serenity Chapel of Garrett Family Funeral Home Checotah with Pastor Kendall Hamilton ministering. Committal prayers and interment to follow at Pierce Cemetery under the personal direction of John Garrett. Joe's grandsons will serve as Casket Bearers and Teygan and Maddox Humphrey will serve at Honorary Casket Bearers.
Military Honors will be provided by the United States Army Honor Guard.
You may share online condolences with Joe's family at www.garrettfamilyfuneralhome. com The family of Joe Humphrey entrusted his care, services and burial to John & Kim Garrett and the dedicated staff of Garrett Family Funeral Home and Cremation Services 311 SW 2nd St Checotah, OK 74426 (918)-473-2244.