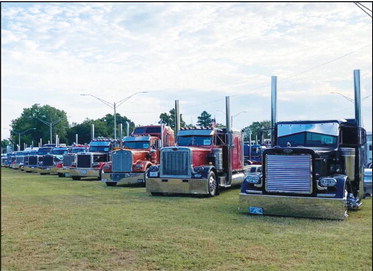 Lakeside Large Car Show raises money for Shop With A Cop
Checotah trucker Buck Crombie had an idea he hoped would bring in some money to help local law enforcement bring in some money for their annual Shop With A Cop Christmas shopping spree for needy youngsters.
He came up with the idea for a Lakeside Large Car Show, a chance for truckers to show off their massive vehicles and to have a lot of fun in the process.
The plan was a success on all fronts. Some 60 trucks entered the event, dozens of donated prizes were awarded to truckers in a drawing and everyone had a great time.
Plus, the event raised $8,335 for Shop With a Cop.
Investigator Kevin Branscum, with the McIntosh County District Attorney's Office, started the charitable program.
He spoke at the closing of the Show's twoday event.
"We started this about 10 years ago with the intent to raise a little bit of money to help children here in McIntosh County," he said.
In recent years the amount of donations was about $30,000 annually.
"This year, we will spend $300,000 back into the county," he said. "This is based on donations from events like this to support us.
"We appreciate you all coming out."