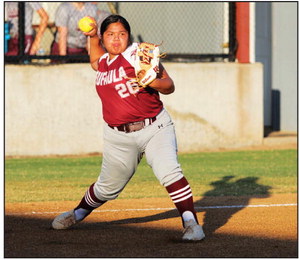 Noriega lifts Lady Ironheads past Warner
Eufaula senior Gabriele Noriega connected on a pitch in the seventh inning to lift the Lady Ironheads past a tough Warner Eagles team 3-2 for their third straight victory on Thursday.
Eufaula (10-4) managed to hold off Warner in the first inning. Eufaula scored when Kambry Williams singled on a 2-1 count. Avery Williams was the winning pitcher. She surrendered two runs on five hits over seven innings, striking out eight and walking one.
"We're lucky to get this one. Warner is a tough team. Their pitcher did a good job. We have to be more productive at the plate but we're happy to get the win today," Eufaula head coach Ryan Green.
Kambry Williams was l-for-4 with an RBI and Noriega had an RBI.
On Tuesday, Eufaula shutout Spiro 11-0.The bats were hot for the Lady Ironheads as they started out with a run in the first and third innings to take a 2-0 lead. However, Spiro fell apart in the sixth inning as Eufaula hammered in nine runs to seal the 11-0 victory.
Rayleigh Peterson, Avery Williams and Jadence Efurd all hit singles. A ball put in play by Peterson and Noriega along with a triple by Kate Pippenger and fielder's choice the strong point of the team for now.
"We still have a lot of work in front of us. We made too many mistakes but this is the time to sort those types of things out. I thought we blocked well at times and gave our quarterbacks time to make their reads. We're not allowed to hit the quarterback in this scrimmage so it took away from the pressure our defense can put on the quarterback. We will address those issues this week and get ready for Vian," Eufaula head coach Larry Newton said.
The Ironheads' receiving corps was productive. Kaden Rice made a couple of catches and Lee showed that he can catch the football in the flats and make defenses struggle.
Eufaula travels to Vian to take on the Wolverines at 7 p.m. Larry Newton is 0-10 against Vian since being hired in 2012.