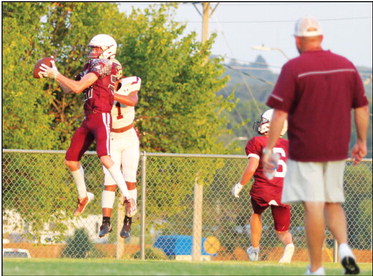 the strong point of the team for now
the strong point of the team for now.
"We still have a lot of work in front of us. We made too many mistakes but this is the time to sort those types of things out. I thought we blocked well at times and gave our quarterbacks time to make their reads. We're not allowed to hit the quarterback in this scrimmage so it took away from the pressure our defense can put on the quarterback. We will address those issues this week and get ready for Vian," Eufaula head coach Larry Newton said.
The Ironheads' receiving corps was productive. Kaden Rice made a couple of catches and Lee showed that he can catch the football in the flats and make defenses struggle.
Eufaula travels to Vian to take on the Wolverines at 7 p.m. Larry Newton is 0-10 against Vian since being hired in 2012.