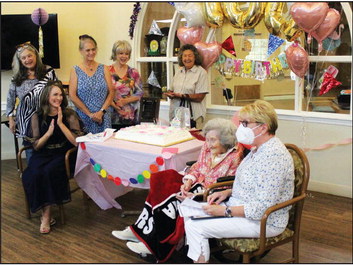 Checotah native becomes centenarian
Lifelong Checotah area resident Sylvia Frances Lucas, born on Sept. 26, 1923, was inducted into the Centenarians of Oklahoma Hall of Fame Saturday during a birthday celebration at Eufaula Manor Nursing Home.
Family and friends helped Sylvia celebrate her birthday.
The birthday girl is the daughter of the late Richard Lee Welch, a farmer, and Ada Mae (Guinn), a homemaker and cook.
There were five children in the family, with Sylvia the last still living. She attended school in Onapa.
After meeting at school and in the community, Sylvia and Johnnie Lucas were married. They were married for 12 years, until his passing in 1951.
She raised their son, Hershel Lee Lucas, on her own, never remarrying.
Sylvia lived in McIntosh County her entire life and owned her home in Checotah. She was the driving force in yearly family reunions.
Retired in 1981, Sylvia had a 26-year career working for Corning Glass where she won numerous awards.
Her hobbies were OU football and basketball, Checotah High School sports, traveling, casinos and visiting friends.
The family traveled to U.S. parks and attractions.
Her favorite foods were her mothers' homemade meals and pies.
She likes music by Carrie Underwood.
Thanksgiving and Christmas are Sylvia's favorite holidays because of having family together for meals.
Looking back on Sylvia's 100 years of living there were memorable changes in her hometown: Walmart, a second stoplight, construction of Eufaula Lake and expanding Highway 69 to four lanes; also, better communications and television.
Her words of wisdom are: Do what is right; keep our family together and close.