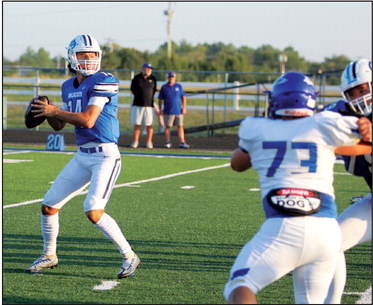 Claremore Sequoyah tops Checotah 49-27
Claremore Sequoyah used their defensive linemen to wear down the Checotah Wildcats (1-1) to win 4927. The Wildcats came out on fire with senior quarterback Jacob Jones slicing and dicing the defense to move the chains. Claremore Sequoyah doubled and triple- teamed Checotah receiver Elijah Thomas most of the game leaving other targets for Jones to hit.
Jaydin Bray played a big part in the Wildcats' offense as the senior receiver had 45-yards receiving with a touchdown.
The Wildcats' defense started off with a lot of intensity with linemen Kamden Miller, Reighn Westbrook, Jonah Marshall and others forcing Claremore into short gains. Hayden Reynolds, Landon Yates, Nathan Gray and others also did a great job for the Wildcats. Trailing 27-14 the Wildcats moved the football me- thodically up the field with short runs by Kaden Mitchell and short passes by Jones. Once in the red zone, Jones found Bray in the corner of the end zone to make it a 27-21 game to end the first quarter.
The next play, Claremore Sequoyah marched down field and scored again on a long run. Checotah struggled offensively in the second half to move the football due to costly penalties.
Jacob Jones finished the game going 20-of 29 passes for 341 yards and four touchdowns. Elijah Thomas would not be denied as the junior receiver had seven receptions for 212 yards and three touchdowns. Kaden Mitchell had 85 yards rushing and Reighn Westbrook had 11 tackles with a fumble recovery.
"We started out playing well on both sides of the football. Jacob had a great game. We knew that they would key in on Elijah and I thought our other receivers did a good job catching the football. You can't keep a talented guy like Elijah down all game and he had over 200-yards. I thought the offensive line played well and gave Jacob time to make his reads. We're going to work hard in practice and get ready for next week," Checotah head coach Zac Ross said.