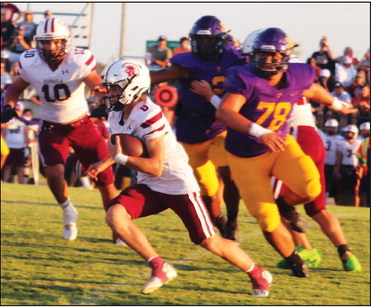 Eufaula Ironheads lose season opener to Vian
VIAN — The Eufaula Ironheads had two shots to score late to snatch away a win from the jaws of defeat, and they were 0-for-2 in their season opener.
Two fourth-quarter drives ended unfavorably for the Ironheads as they dropped their season opener 35-27 to the Vian Wolverines on Friday night at St. John Stadium.
Trailing 33-27 with 8:14 left to play in the game after Eufaula quarterback Ledger Folsom scored on a 6-yard touchdown run in which the conversion was a failed snap and a failed pass, the Ironheads (0-1) used their defense to give them a shot at the lead as linebacker Aaron Spoehr recovered a Vian fumble at the Vian 33 with 6:07 remaining in the game.
However, about 90 seconds later, Folsom's pass was intercepted by Vian cornerback Nathan Creasey at the Vian 5 with 4:41 remaining to play.
The Wolverines (1-1) chewed up clock as they methodically moved down field. However, the Eufaula defense rose to the occasion again as Vian quarterback Masyn Wright's pass was intercepted by Eufaula defensive back Maddox Bridges at the Eufaula 7 with 1:19 left in the game.
However, on the next play, Folsom was tackled hard in the end zone by Vian linebacker Tristan Wiley for a safety, and a Vian 35-27 lead with 1:12 left to play.
On the ensuing kickoff, Eufaula tried an onside kick, which was recovered by Vian — which ran out the clock.
"We had a shot," Eufaula coach Larry Newton said. "This game has been all but one year since we've been playing these past six years, it's only been a one touchdown game. We had an opportunity (in the nextto- last drive). We had a sophomore quarterback that tried to make something happen when (Folsom) threw the interception (by Creasey). We just have inexperience at that spot. We had a chance to go down and possibly tie the game or go up. That's the way it is. With a young quarterback, you're going to have some growing pains."
Another turning point in the game came at the close of the opening half as the Wolverines scored twice in the final 2:59 to go from being behind 21-20 to taking a 33-21 lead at the break.
Vian got a 52-yard TD run by Draighton Fletcher with 2:59 left before halftime, but the two-point conversion pass failed to put the Wolverines ahead for good at 26-21.
With a second left in the opening half, Wright scored on a 6-yard touchdown run. Tyrick Mosley's extra point gave Vian a 33-21 lead at halftime.
"That's us being young," Newton said. "It was them (the Wolverines) having a game under their belt. That was the big swing. That was 13 points right there that was a big difference."
The game started off with a bang as Wright returned the opening kickoff 82 yards for a TD. Due to a bad snap on the conversion, it failed to keep Vian ahead 6-0 with only nine seconds elapsed.
The Ironheads responded on their ensuing drive as running back Peter Lee took it in from seven yards out with 8:14 left in the first quarter. Bryan Lynn's PAT put Eufaula ahead 7-6 after a period.
The Wolverines regained the lead with 11:42 left in the first half on a 5-yard touchdown run by Fletcher. Mosley's extra point went wide left, keeping Vian ahead 12-7.
On the ensuing kickoff, Eufaula's Keonte Youngblood returned it 90 yards to paydirt. Lynn's PAT put the Ironheads back on top 14-12 with 11:35 remaining before halftime.
Vian's defense set up its next score as Wright recovered an Eufaula fumble at the Eufaula 23 with 8:13 remaining in the first half.
Just 44 seconds later, Wright scored his second TD of the game on a 12-yard run. Fletcher ran in the two-point conversion to put Vian back ahead 20-14 with 7:29 left in the first half.
The Ironheads responded with a scoring drive capped by a 31-yard touchdown run by Folson for his first of two TDs on the night. Lynn's PAT regained the lead for Eufaula at 2120.
"The big thing is the inexperience we have across the field as far as starters go," Newton said. "We've got to dig in. I liked where the team was as far as the effort on the field. We're going to get better."