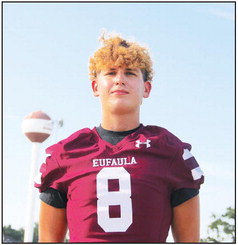 EUFAULA PLAYERS OF THE WEEK
Eufaula Ironheads Football Player of the Week
The Eufaula football player of the week is Aaron Spoehr. The junior linebacker had seven tackles and a fumble recovery in the Ironheads game against Vian.
Eufaula Softball player of the Week
The Eufaula softball player of the week is Kate Pippenger. Pippenger was 2-of-4 with a 2 runs and a pair of RBIs against Okemah. Pippenger was 3-of-4 with 3 RBIs against Hartshorne, 1-of-2 with 2 RBIs against Warner and came in to pitch in relief of Williams.