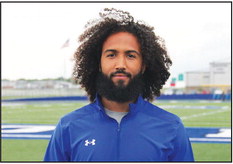 Football standout Drew Dan starting Triple D Academy
Former Division I football player Drew Dan has established the Triple D Academy . The Triple D stands for Dedication, Discipline and Determination. The special skills football courses are available to any student athletes in eastern Oklahoma.
Dan played college football at New Mexico State University and finished his career playing for former NFL coach Lovie Smith at the University of Illinois.
Dan was also an All-State athlete at Checotah.
Dan has experience in helping all levels of players improve their techniques, mechanics, speed, awareness and coordination. Coach Drew Dan can be reached at 918-490-2989.