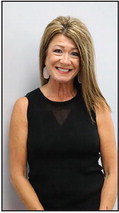 Jennifer Dearman
Meet educator Jennifer Dearman who is teaching Career Technology at the high school.
Dearman received her Associate Degree in Liberal Arts from TCC and will graduate in December with her Bachelor of Science in Organizational Leadership from NSU. She also serves as Vice President for the NSU SHRM (Society for Human Resources) chapter and Co-Advisor Checotah BPA (Business Professionals of America) chapter.
"My mother-in-law and my father-in-law both encouraged me to become a teacher, but most recently, my sisterin- law pushed me to finish my bachelors and now I get to teach sideby-side with her. "I have a real passion for preparing the youth of today to be the future of our tomorrows. I also love watching them grow and find ways to thrive.
"I grew up in Crowder, graduating in 1990. I attended EOSC after high school, majoring in journalism and music, but did not complete my degree. Instead, I got married and started working in retail for a few years until my first of three sons was born. Then I began working in technology and shifted to working in call centers, where my focus was on compliance and consumer advocacy. After I graduate this December, I plan to attend the University of Oklahoma to pursue a Master's Degree in Organizational Leadership beginning in January 2024.
"My husband, Chris, and I have been married almost 31 years and are 'empty nesters.' We have three grown sons: Drayson Dearman, Kelton Dearman and Holden Dearman, and one daughter-in law, Emily Dearman. We also have one dog, Luke, and one cat, Joey. During our spare time we enjoy going to sporting events, especially OU football and softball games, as well as the theater. We also love spending time with our family."