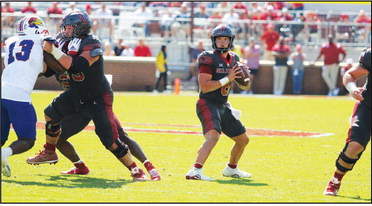 Sooners hand 73 on Arkansas State
The No. 20 ranked Oklahoma Sooners defeated Arkansas State 73-0 Saturday before 83,221, opening their final season in the Big 12 Conference with a runaway victory against an obvious outclassed opponent.
Sooners quarterback Dillon Gabriel was on target in his 2023 debut, throwing for 308 yards and two touchdowns on 19 of 22 passing. Gabriel also rushed five yards for a touchdown in the second quarter before giving way to freshman backup Jackson Arnold in the second half.
The Sooners running game was outstanding as running back Marcus Major scored from two yards out in the first while walk-on rusher Tawee Walker added 1-yard touchdowns in the second and third. Freshman running back Kalib Hicks added a 6-yard score in the fourth.
Receivers Drake Stoops and Gavin Freeman caught first quarter touchdown passes from Gabriel and Freeman returned a punt 82 yards for a touchdown. Backup quarterback Jackson Arnold threw a touchdown pass to Jayden Gibson and rushed seven yards for a score in the third quarter.
Game Stats Total Yards-OU 642AS 208 Passing Yards-OU 422-AS 160 Rushing Yards-OU 220-AS 48 Yards Per Play-OU 7.8-AS 4.2