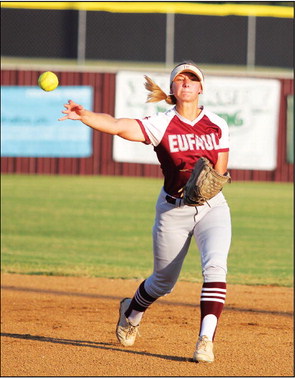 Warner wins Lake Eufaula Fast-Pitch Festival
The Warner Lady Eagles won the Lake Eufaula Fast-Pitch Festival with a win over Stuart. Stuart took second place and Eufaula (13-6) placed third. Warner defeated Eufaula 5-2 on Friday. Warner's Bailey Hughey connected on a pitch for a grand slam to get the win for the Lady Eagles. Warner led 1-0 in the bottom of the first inning. Kate Pippenger of Eufaula gave the Lady Ironheads the lead after hitting a double in the top of the fifth inning.
Avery Williams took the loss for Eufaula. She allowed five hits and five runs while striking out two.
Pippenger, Allie Anderson and Rayleigh Peterson each collected one hit in the game.
On Saturday, Stuart shutout Eufaula 2-0 in a defensive battle. Stuart scored a run in the first and second innings in a game where Eufaula struggled at the plate.
On Thursday, Eufaula dominated Okemah 17-3 and Hartshorne 8-4. Eufaula had eight runs in the fifth inning against Okemah. Multiple players led the charge for the Lady Ironheads in Kate Pippenger, Gabriele Noriega, Maddie Ballard, Jadence Efurd, Rayleigh Peterson and Allie Anderson.
Avery Williams had a huge day pitching as she surrendered zero runs on zero hits over three innings, striking out eight and walking one. Kayte Pippenger threw two innings in relief out of the bullpen. Eufaula finished the game with 14 hits. Eufaula had three players steal at least two bases including Kadie Tidwell's two stolen bases.
In the Ironheads' 8-4 win over Hartshorne Eufaula head coach Ryan Green had his players focused. Noriega singled on a 0-1 count, scoring one run. The Ironheads would score another run before the inning was over. Leading 3-2 going into the fourth inning, Eufaula smacked three runs in the fourth as Maddie Ballard smashed a pitch over the wall scoring three runs.
Eufaula added two more runs in the fifth and tallied 11 hits total in the victory. Avery Williams went all five innings allowing four runs on seven hits, striking out four with zero walks. Noriega and Pippenger each went 3-for-4 at the plate.