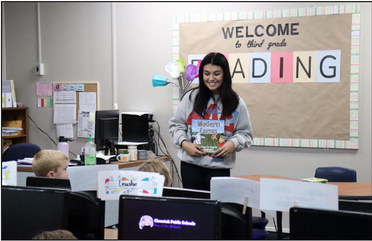 Checotah FFA participate in Read an Accurate Ag Book Week
stated that it is very important for younger students to realize the importance of where their food comes from and that there are many local farmers who raise farm animals and produce for community consumption.
Agriculture in the Classroom (AITC) programs are implemented by state-operated programs and National Agriculture in the Classroom supports state programs by providing a network that seeks to improve agricultural literacy — awareness, knowledge, and appreciation — among PreK12 teachers and their students.
AITC programs seek to improve student achievement by applying authentic, agricultural- based content as the context to teach core curriculum concepts in science, social studies, language arts and nutrition in the classroom. By encouraging teachers to include agriculture into their classroom, AITC cultivates an understanding and appreciation of the food and fiber system that consumers rely on every day.
AITC is unique within the agricultural education community as the lead organization to serve the full spectrum of K-12 formal education. That's why they promote Read an Accurate Ag Book Week so agriculture is valued by all.
"The ag students that read today are all Checotah FFA members and most of them are in my Agricultural Communications class," Ilbery said. "These students know the importance of not just living on a farm but teaching younger students why farmers are so valuable in our communities."
Some interesting Oklahoma agricultural facts:
• Oklahoma is 4th in the nation in the number of farms
• 93% of Oklahoma farms are family owned
• Oklahoma is 7th in the nation in the amount of land in farms
• There are 77,200 farms in Oklahoma Checotah FFA students who came out to read to the younger students were: Rocky Hicks, Dalton Johnson, Jade McPeak, Shayla Dismukes, Chloe Reeves, Alexis Horton, Heavenly Smith and Samantha Barnes.