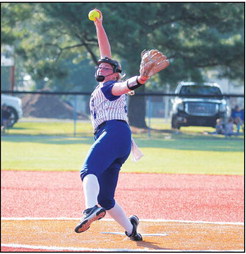 Sports
September 14, 2023
Checotah Lady Wildcats end week with big win over Hilldale (JV)
The Checotah Lady Wildcats (9-12) fastpitch softball team ended the week with a solid victory over Hilldale JV 7-1 on Thursday. Checotah opened up the scoring in the first inning, when Hailey Prince connected on a hit for a single, scoring a run to take a 2-0 lead to end the inning.
The Wildcats roared to a 6-0 lead after the third inning after Addie Britt got on base with a walk and Kora Hall whacked the ball for a single. Prince led Checotah from the pitcher's circle as she allowed three hits and one run over four innings, striking out an impressive eight batters and walking just one.
Katherine Anderson went 2-for-2 with 2 runs scored, Prince 2-for-3 with an RBI and run scored, Kora Hall 2-for-2 with runs scored and Maci Britt went 1-for-1 with an RBI.
Pacola topped Checotah in a low scoring affair 3-0. Pacola scored a run in the first on a triple and it became a defensive battle in the mid-innings after that as both teams infield played well. Aurora Madewell smashed a pitch for a single in the first inning but Checotah failed to get her across the plate as they struggled with the bat.
Shaelynn Casey took the loss for the Lady Wildcats from the pitcher's circle. Casey allowed 10 hits and three runs over four innings.
Madewell led Checotah from the plate going 2-for-3. Checotah didn't commit any errors in the contest. Addie Britt went 1-for-2.
On Tuesday, Checotah was shutout by Oktaha 12-0. Maci Britt and Kami Hamm each went 1-for-1 at the plate with Aurora Madewell and Shaelynn Casey going 1-for-2.