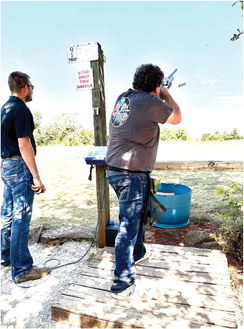 Sports
September 14, 2023
Checotah students compete in OYE Shotgun Sports Contest
On Wednesday, September 6, the Checotah FFA Shooting Sports Team traveled to Guthrie and El Reno to compete in their first Oklahoma Youth Expo (OYE) contest of the year.
The OYE Shotgun Sports offered contests in both Sporting Clays and Trap. The contest was open to all Oklahoma 4-H and FFA members from 7th to 12th grade.
The OYE has grown for over a century and keeps providing opportunities for Oklahoma's agricultural youth. To date, more than $4 million has been raised to help support the Youth Expo's mission in providing Oklahoma 4-H and FFA members with opportunities to showcase their agricultural projects and further foster their future educational goals and their leadership skills.
"This elite contest not only inspires healthy competition within our youth, but also promotes proper gun safety," Checotah Coach Zachary Ilbery said. "I am very proud of the accomplishments of these students. I cannot wait to see what they become as we continue to practice throughout the year."
The team consisted of members: Larry Burton, Cooper Cole, Rocky Hicks, Johnny Ray Hicks, Karson Hiser, Dalton Johnson, and Ryan Miles.
The team shot 141 out of 200 in the Sporting Clays contest and shot 149 out of 200 in the Trap contest. The team is currently waiting on the results of both contests.
Coach Zachary Ilbery and his team want to thank Connors State College in Warner for allowing them to practice at their facilities to prepare for their competitions.
Shotgun Sports Finals will take place on Sept. 27 at Silverleaf Shotgun Sports in Guthrie. Finalists will be announced online and a detailed schedule released no later than Sept. 20.