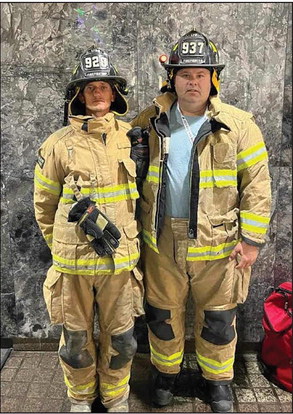 Local firefighters honor lives lost on 9/11
On Saturday, Sept. 9, 500 climbers participated in the 12th Annual OKC 9/11 Memorial Stair Climb. This year two local Checotah volunteer firefighters, Dustin Meeks and Barry "Cowboy" Pearce, were honored to represent the Checotah Fire Department as they ascended 110 floors, and were reminded of the 343 firefighters from FDNY, 37 officers from Port Authority NY-NJ, 23 officers from NYPD, eight paramedics, 40 civilians on Flight 93 and 48 civilians from Flight 11, who all lost their lives on Sept. 11, 2001.
The Oklahoma Fire Pipes and Drums played for all the climbers then led the climbers to their starting line.
Each climber remembered those who perished as they carried one name tag and passed by all the heroes' pictures on the walls as they climbed step after step of each floor.
The event in OKC has traditionally remembered firefighters, police officers, port authority officers, and EMS members. However, this year the OKC Memorial Stair Climb Committee included spots for Flight 93 and Flight 11 casualties and civilians were allowed to climb for these individuals.
Meeks and Pearce, along with fellow comrades, climbed 110 floors to represent the 110 floors that collapsed when two planes hit the twin towers.
Meeks had the privilege of climbing for Lt. Paul Martini, FDNY, who died at the age of 37. Martini was studying for his fire chief exam and was one month away from completing it. Meeks stated he was overwhelmed with emotions as he climbed these stairs to honor Paul. There were times when he had to just crawl, but he never quit because he knew that Paul didn't quit until his very last breath. Meeks was proud when he finished the climb and got to place Lt. Paul Martini's name tag on the board and ring the bell.
Pearce climbed for Lt. Raymond E. Murphy, FDNY, Ladder 14, who died at the age of 46. Murphy was a former salesman who took a pay cut when he joined the FDNY to save lives.
"It was intense climbing those stairs, and seeing the pictures along the walls of our fallen brothers and civilians that were lost that day made me cry," Dustin Meeks said. "Every flight we went up, there were more and more pictures. I was just a kid that day, but I still remember watching it all over the news and seeing the planes hit those towers. It was unreal."
"As Dustin and Cowboy placed the names on the board and rang the bell, I was so proud of them both being firefighters," Dustin's wife, Cherokee Meeks said. "They often do so much behind the scenes that goes unnoticed but our first responders truly are amazing. It's hard to believe that it's been 22 years since those attacks on American soil. May we never forget."
Each year the Oklahoma Firefighters Foundation, a nonprofit 501(c) 3 organization, holds the OKC 9/11 Memorial Stair Climb to raise money to help families of burn survivors and first responders in time of need.
The OKC 9/11 memorial stair climb motto is "They did, so we will."
Not including the 19 hijackers, the attacks killed 2,977 people from 93 nations, injured thousands and changed America indefinitely.