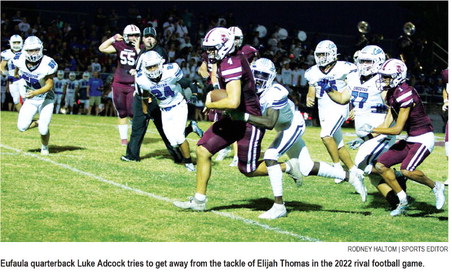 Sports
September 14, 2023
Who's going to break the tie in Oklahoma's longest uninterrupted high school football rivalry?
53
53-1
–
It's that time of the year when Oklahoma's longest uninterrupted high school rivalry on the gridiron takes place as the Eufaula Ironheads and the Checotah Wildcats get ready to square off Friday night at Ray Grandstaff Stadium. In 107 games played since 1915, the record is Checotah 53 wins, Eufaula 53 wins and a tie. That's how competitive this football is.
The longest tradition of favorable football programs and coaches has produced hall of fame coaches and pro football players and dozens of collegiate athletes.
The game goes so far back in history that it was played before Oklahoma was a state and it still gets the old timers and the present day football players and fans excited for their respective teams.
"It's always a great feeling heading into the McIntosh County war on the gridiron. Checotah has a very good athletic skill player unit. We will have to be on top of our game in order to bring the McIntosh County Championship trophy back across the river to Eufaula," Eufaula head football coach Larry Newton said.
"Paul Bell and I were best friends 51 weeks a year. After one of our games, which we (Checotah) won, his wife Lu-
See RIVALRY, page B2
Eufaula quarterback Luke Adcock tries to get away from the tackle of Elijah Thomas in the 2022 rival football game.
RODNEY HALTOM | SPORTS EDITOR cille came across the field and gave me a hug. Then she said," Well, you get to keep your job another year," former Checotah football coach and Hall of Famer Ray Grandstaff said.
"The game is very important to these communities and even more so for the players that compete in it. This is every bit as important to these athletes as the super bowl is," Grandstaff added.
This game is equivalent to the OU versus Texas game. There is so much hype, history and energy in this game it's hard to imagine.This was a game that fans saw players such as Lucious, Dewey and Lee Roy Selmon, Tracy Scroggins, J.C. Watts, Rusty Griffis, Clint White, Junior and Lester Golding, Rusty Martin, Charlie Thomas, Gregg Dixon, David Shoemaker, Larry Newton and others of the past to athletes such as Luke Adcock, Caleb Knight, Ethan Sharp, Ty Dodd of yesterday's teams to present players such as Elijah Thomas, Peter Lee, Jacob Jones, Brian Lynn, Draven Gragg, Lane Elliott, Carson Luna and Kaden Mitchell.
The Checotah Wildcats versus the Eufaula Ironheads has always been a game that the coaches throw the stat book out the window because for the most part the game was going to be played with passion, respect and true physicality.
In the 100th meeting, Drew Dan scored five touchdowns to lead Checotah to victory in front of 5,000 fans (unofficial).
However, Eufaula, under head coach Larry Newton, has consistently chipped away at the Wildcats' lead in the series and tied the record up last year with a decisive victory in 2022 to make it a 53-53-1 overall record.
The 108th meeting will start this Friday at 7:30 p.m. at Ray Grandstaff Stadium in Checotah. If you ever wanted to see a great football game this is the one you should attend.