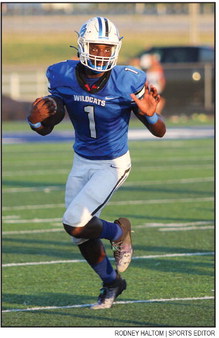 Sports
September 14, 2023
Wildcats claw past Haskell Haymakers
The Checotah Wildcats improved to 2-1 on the season after a huge 59-14 victory over Haskell. Lane Elliott led the charge as he scored the Wildcats' first touchdown with a 22-yard touchdown reception that set the tone of the football game.
The Wildcats' defense stymied Haskell's offense throughout the game and forced poor exchanges and fumbles. Checotah scored the second time when Elijah Thomas took a punt to the house for a 70-plus yard touchdown.
"I'm really proud of the kids. They did a great job," Checotah head coach Zac Ross said. Indeed they do a great job. Senior quarterback Jacob Jones had another solid game throwing for 224-yards and five touchdowns. Haskell just could not stop the offensive attack of Checotah. Wheth-
See WLDCATS, page B3 er it be on the ground or in the air Checotah was able to move the football. Running back corps of Kaden Mitchell and Jayden Casey was solid. Mitchell finished with four carries for 127 yards and two touchdowns while Casey had 61 yards rushing.
The offensive line gave Jones plenty of time to make his reads and he picked the Haymakers apart. Jones threw to Jayden Bray for five receptions, 58 yards and a touchdown. Elijah Thomas finished with five receptions for 104 yards and a score. Brian Love had 40 yards and two receptions for a pair of touchdowns. Jaydin Lake had two receptions for 58 yards. Thomas rounded the plays out with two punt returns for 110 yards and a touchdown.