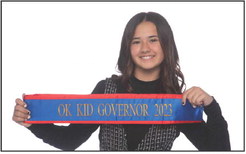 commentary
September 21, 2023
Constitution Day and the Kid Governor® Program
Constitution Day and the Kid Governor Program OKLAHOMA CITY – On Sept. 17 each year, Constitution Day is held. This is a special day for me as it often allows the opportunity to visit with students about the importance of this document and the work done by our Founding Fathers to establish our nation.
As this column is coming just after the holiday on a Sunday, I felt this would be a good time to discuss the importance of sharing lessons in civics with young people who will in just a few short years be making decisions on critical issues with voting.
The history of voting is critical to understand with this document.
• The 14th Amendment extends citizenship to all natural born or naturalized Americans regardless of race and guaranteed that rights of citizenship, like voting, cannot be restricted by the states.
• The 15th Amendment prohibits restricting the right to vote due to race.
• The 17th Amendment requires states to elect senators by popular vote.
• The 19th Amendment extends voting rights to all women.
• The 26th Amendment extends the right to vote to everyone 18 years of age and older.
• The 24th Amendment explicitly bans poll taxes, which was used by some states to prevent racial minorities and those who were impoverished from exercising their right to vote.
Years later, the Snyder Act of 1924, passed by the U.S. Congress and signed into law, admitted Native Americans born in the U.S. to full U.S. citizenship. Though the 15th Amendment, passed in 1870, granted all U.S. citizens the right to vote regardless of race, it was not until this law that Native Americans could enjoy the rights granted by this amendment.
States today have varying degrees for allowing convicted felons to have their voting rights restored and provisions for showing identification when voting.
Teaching these lessons is something I have continued through the Oklahoma Institute for Child Advocacy (OICA). We are the state affiliate for the national Kid Governor program. Through this project, we share lesson plans which discuss how our state governmental system operates at no cost for teachers or schools. This also provides the opportunity for 5th grade classrooms to hold a local vote to select a classroom nominee, who records a twominute video promoting an idea for improving our state.
Those videos are sent to a committee which selects the top seven finalists. This committee includes former Oklahoma Governors from both parties who help narrow the list. Then, a ballot with the seven names is prepared for each participating classroom to hold a real election in November. The winner will serve the following year as Oklahoma's Kid Governor.
OICA is currently signing up classrooms for this program, which is offered at no cost to schools. We raise the necessary funds with the help of Governors Nigh, Walters, Keating, Henry, and Fallin, along with many other supporters.
Thank you to the teachers at Kennedy Elementary School – Norman, Sayre Elementary School, Soldier Creek Elementary – Midwest City, James Griffith Intermediate – Choctaw, Boevers Elementary – Tulsa, Coronado Heights – OKC, Centennial Elementary Edmond, Classen SAS Middle School – OKC, College Bound Acad- emy – Tulsa, Belfonte Public School – Muldrow, Bridge Creek, Colcord Elementary – Colcord, Shidler Elementary School, Apollo Elementary – Bethany, Thackerville Elementary, Central Elementary School – Moore; Tulakes Elementary – OKC, and Eisenhower Elementary – Enid for being early classrooms to register.
If you would like to recommend Kid Governor to a 5th grade teacher in your community that they con-sider this program, have them review the program at https:// o k . k i d g o v e r n o r . org/ and register.
Together, we can inspire young people to know more about civics and the importance of voting!