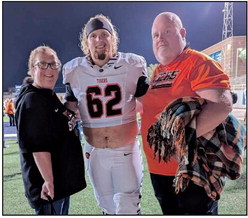 Sports
September 21, 2023
East Central mounts fourth quarter comeback, defeats SWOSU 24-13
In a highly anticipated clash, the East Central University Tigers squared off against the Southwestern Oklahoma State University Bulldogs, with the Tigers emerging victorious 2413 in a hard-fought battle Saturday night at Milam Stadium.
The win not only marked the first victory of the season for ECU but also the first win for head coach John Litrenta in his first year at the helm.
"I am proud of this team and staff for the job they did," Litrenta said. "Each week we are continuing to get better. We are learning from previous mistakes, which is a huge key. The team battled even when it did not look pretty. We have to learn to play better complementary football, but I am very excited to get back home this week against another Oklahoma opponent for homecoming."
The visiting Tigers came into the game with a point to prove.
The first half of the game proved to be a defensive battle, with both teams struggling to break through. ECU had an early opportunity but missed a field goal on their opening possession. However, their fortunes changed when they capitalized on a crucial early firstquarter fumble by the Bulldogs. Kicker Tommy Yousey converted a 32-yard field goal, accounting for the only points scored in the half, and ECU took a 3-0 lead into halftime.
Coming out of the locker rooms, ECU wasted no time in the third quarter as Miles Davis, in a spectacular display of skill and speed, broke free for a 36-yard rushing touchdown, extending the Tigers' lead to 10-0 after the PAT by Yousey.
But SWOSU fought back, responding with a 75-yard touchdown drive and a forced fumble that they recovered on the Tigers' two-yard line to pave the way for the Bulldogs to come up with 13 unanswered points that suddenly had ECU trailing 13-10.
But the fourth quarter belonged to the Tigers as they showed tremendous resilience, scoring two pivotal touchdowns to shift the momentum and the lead back to ECU.
On the ensuing kickoff, Dior Scott had a crucial 50-yard return to set ECU up at the SWOSU 40-yard line. Quarterback Traair Edwards capped off the short field drive, hitting Scott with a seven-yard touchdown pass to put the Tigers back on top 17-13. To seal the victory, ECU added another score with just two minutes and eight seconds remaining in the game when Miles Davis came in clutch once more, rushing for a 17-yard touchdown to settle the game 24-13 in favor of the Tigers.
ECU finished with 333 yards of total offense while SWOSU was limited to 175 yards by a tough Tiger defense.
Devon Roush led the defense with 10 tackles and a pass breakup while Darian Williams and Yemi Oyesanya added seven tackles each. Jimmy Pitts notched his second interception of the year as well.
Dior Scott topped the team in receiving, hauling in 10 catches for 108 yards in addition to 66 return yards on special teams. It was his first game with more than 100 yards this season.
ECU will return home and prepare to host Oklahoma Baptist University for homecoming on Saturday, Sept. 23 at 6 p.m.