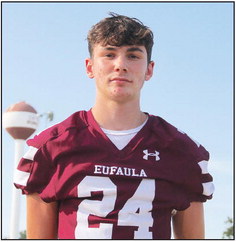 Sports
September 21, 2023
EUFAULA IRONHEADS IMPACT PLAYERS OF THE WEEK
The Eufaula Football Impact Player of the Week
The Eufaula Football Impact Player of the Week is Maddox Bridges. Bridges had three receptions for 100 yards and a touchdown against Checotah.
The Eufaula Softball
Player of the Week
The Eufaula Softball Player of the Week is Maddie Ballard. Ballard hit a solo home run against Okatha, went 1-for-5 with a pair of RBIs and a run scored against Henryetta.