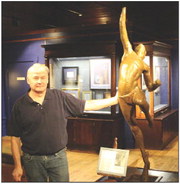 Jerome Tiger art exhibition closes for the season Sept. 30
Only 9 days left to see display by legendary Native American
Highly acclaimed Native American artist Jerome Tiger died in 1967 at the age of 26, but he lives on through his art – some of it currently on display at the Five Civilized Tribes Museum in Muskogee.
Sean Barney, the museums Executive Director, said Tiger's artistic style changed the way Native American art is done.
"He was a street fighter, a boxer. He had muscle definition," Barney said.
That definition is reflected in much of his work, which includes 487 pieces of Tigers original art in the museums extensive collection – the largest in the world.
Barney said the collection is insured for $287,000.
It also includes Tiger's only major sculptor, an unfinished bronze statue called the Stickballer, which is on permanent display.
"It was a work in progress at the time of his death," Barney said.
Tiger, who grew up around Eufaula, died on Aug. 13,1967 of an accidental gunshot.
Only 60 or 70 of Tiger's works are currently on display at the museum's gallery.
If you would like to experience his art, you only have nine days before it is returned to storage until next year.
The annual exhibition, which is only on display for two or three months each summer, ends on Saturday, Sept. 30.
Tiger's artwork may also be found at the National Cowboy and Western Heritage Museum in Oklahoma City, Philbrook and Gilcrease Museums in Tulsa, the OSU Museum of Art in Stillwater, the Woolaroc Museum near Bartlesville, the Museum of New Mexico in Santa Fe, and the Museum of the American Indian at the Bureau of Indian Affairs in Washington D.C.
Tiger has worked in oil, watercolor, tempera, casein, pencil and pen and ink. He has been compared to Rembrandt and Francisco Goya.
It isn't surprising that the Five Civilized Tribe Museum has such a large collection of art by Tiger.
"He was instrumental in getting the museum up and running," Barney said.
The historic building that houses the museum was built in 1875, housing the first Union Agency.
Jerome Tiger comes from a large family of artists.
"Someone called them the Kennedys of the Native art world," Barney said.
Jerome's daughter, Dana Tiger, who was 5 years old when her father died, is an acclaimed artist in her own right. She and other family members manage the Tiger Art Gallery at 2110 E. Shawnee Rd. in Muskogee.
Jerome's son Chris was an up-and-coming artist when he was murdered in 1990 at the age of 22.
Jerome's older brother, Johnny Moore Tiger Jr., who died in 2015 at the age of 75, was a noted artist/sculptor.
Cousin Jon M. Tiger is an award-winning artist from Eufaula.