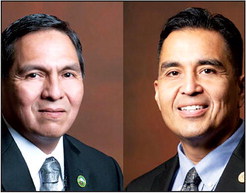 Muscogee voters re-elect Hill and Beaver, send council incumbents to runoffs
Muscogee Nation Principal Chief David Hill and Second Chief Del Beaver have been reelected to second terms, with Hill receiving majority support over three challengers and avoiding a Nov. 4 general election runoff that two incumbent National Council members were forced into after Saturday's primary election.
According to unofficial results posted on the Muscogee Nation Election Board's Facebook page around 11 p.m. Saturday, Hill received 57.38 percent of the ballots cast, topping Timothy Good Voice (25.36 percent), Lahoma A. Schultz (14.08 percent) and Joseph T. Rogers (2.19 percent).
Facing only National Council Rep. Sandra Golden, Beaver received 62.7.02 percent of the vote for second chief. Also prevailing Saturday was incumbent McIntosh District Seat A Rep. Darrell Proctor, who defeated sole challenger Judith Pickering with 58.73 percent of the vote.
Hill celebrated the unofficial election results late Saturday night by jumping into an above-ground pool.
"I'm looking forward to just keep working — working for the nation and working for the citizens," Hill said after climbing out of the pool. "Thank you for having the trust in me to be your principal chief, and I'm looking forward to working with each and every one of you for four more years. Mvto. Thank you."
Two National Council seats head to Nov. 4 general election Okmulgee District Seat A incumbent Rep. William Lowe and Creek District Seat A. incumbent Rep. Joseph Hicks will both head to their tribe's Nov. 4 general election, essentially putting the candidates in a sevenweek runoff to retain their positions on the Muscogee National Council.
In the Okmulgee District, Lowe (37.8 percent) will face challenger Robyn Whitecloud (34.39 percent). Former Rep. James Jennings finished behind Lowe and Whitecloud with 27.81 percent support.
Seeking reelection to Creek District Seat A, Hicks (38.98 percent) finished just behind former Rep. Dode Barnett (39.54 percent) but ahead of Leney McNac (21.48 percent).
Voter turnout down compared to 2019 chief primary
Only 4,037 ballots were cast during this year's primary election, down from the 5,137 ballots cast during the Muscogee Nation's primary chief election cycle in November 2019, which was reconducted one month after the tribe's Supreme Court invalidated the original September results following an investigation into how absentee ballots had been handled.
With 18,147 Muscogee citizens registered to vote this year, Saturday's election featured about 22.2 percent voter turnout. Of the 4,037 ballots cast, 2,411 were submitted by the tribe's absentee mail process, which was revamped during the 2021 election cycle after U.S. Postal Service issues and other factors resulted in more than half of absentee ballots arriving beyond the primary election deadline.
In response, the tribe's National Council appropriated millions of dollars for future absentee ballots to be mailed to voters along with prepaid, priority first-class USPS envelopes intended to expedite return service.
All Muscogee voters are eligible to cast ballots for all National Council races, although candidates must reside within their specific districts.