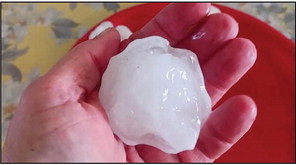 Grapefruit-sized hail damages homes
Severe weather pauses fishing tournament
Hail, some the size of grapefruits, pounded the far western side of the county Saturday afternoon.
"About 150 homes were damaged," McIntosh County Emergency Director Leslie Phillips said.
Lots of cars and car windows were damaged. Four barns were destroyed.
"One house suffered major structural damage," Phillips said. "Wood from a barn that was destroyed went into the house."
Unfortunately for hundreds of anglers who were on Lake Eufaula for the Crappie Masters National Championship, the foul weather, which included lightning, thunderstorms and hail, forced a late start in Friday's event, the second day of the three-day tournament.
Ryan Duley posted a message: "What a week it's been! Just wrapped up the Crappie Masters National Championship on Lake Eufaula, OK! It has stormed and there have been high winds almost everyday. Trying to figure out a 110,000 acre lake in three days with winds, storms, and trees was the ultimate challenge."
One fisherman said he and his partner were almost hit by lightning.
"Our rod actually shocked us while we had them in our hands," he said.
But, he added, he wasn't discouraged. "I can't wait for April 6."
The next Crappie tournament in Eufaula will be in April, 2023.
Another angler said he and his partner sought refuge from the weather under the I-40 bridge.
Although the weather frustrated many of the competitive fishermen, none seemed discouraged.
The weather caused widespread power outages for several hours late Saturday, early Sunday.
Phillips said some area round the lake had hail four-inches or so in diameter.
The heaviest hit was the area from Lenna Road to Vernon, south of S.H. 9.
Although there were no reports of tornadoes, Lewis said one weather spotter said winds gusting between 82 and 90 miles per hour hit south of Eufaula in the area of Indianola Saturday night.
According to the National Weather Service, Saturday night there were severe thunderstorms located along a line extending from four miles south of Dewar to three miles northeast of Pharoah.
There were wind gusts of 60 miles per hour and quarter-size hail.