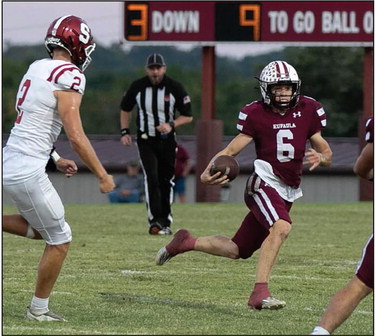 Sports
September 28, 2023
Ironheads rally late to get win over Spiro
The Eufaula Ironheads (2-2, 1-0 District 2A-6)) had to rally late in the fourth quarter to defeat a tough Spiro Bulldogs team 30-20. The Ironheads had to rely on senior running back Gavin Watkins who ran over and through the Bulldog defense. Watkins finished with 152-yards on 22 carries with two touchdowns.
"We committed too many errors early but we made some adjustments at the half. I thought we blocked well and our running game got better as the game went on. I'm very happy with how we overcame some obstacles and accepted the challenge in front of us. I felt like our defensive front began to impose their will one them in the second half and that gave us some lane to run through and gain a lot of yardage. Spiro is a good team and we knew we couldn't overlook them. They started the game fast but we made some big plays that kept the game close. I'm very proud of how we ran the football tonight. It was running back by committee and it worked," Eufaula head coach Larry Newton said.
Spiro led 13-7 when Brian Lynn kicked a 20yard field goal to cut the lead 13-10.
But Spiro battled back with short runs on a long drive that was capped off with a 1-yard run to extend the lead 20-10.
The second half was all Ironheads. Sophomore quarterback Ledger Folsom began to find running lanes behind his offensive line and made Spiro pay. Folsom finished with 131-yards rushing on 17 carries with a pair of touchdowns. He also 3 of 5 passing for 30-yards.
He found one of his targets in tightend Blayden Neil (6'2", 205-pounds).
The ground and pound attack of the Ironheads proved to be too much for the Bulldogs to handle as Eufaula finished with 316 total rushing yards. The combination of Peter Lee, Folsom and Watkins worked like a welloiled machine.
Watkins scored on a 10-yard run to make the score 20-17. He then scored again on a three yard run late in the fourth quarter to give the home team the lead 24-20.
Spiro got the football back with plenty of time on the clock but the Ironhead defense was relentless. The Bulldogs offensive possession went 3-and-out due to the great pursuit by the Ironheads' defense and forced Spiro to punt.
Eufaula received the football with great field position. Folsom then guided his team down field with short runs with the help of his running backs. Folsom then put icing on the cake when he broke free for a 17-yard scamper to seal the victory 30-20.