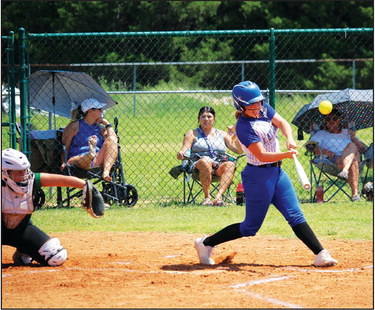 Sports
September 28, 2023
Lady Wildcats swing to victory
The Checotah Lady Wildcats earned a big 8-1 win over Gore. The Wildcats scored seven runs in the first inning. Shaelynn Casey, Maci Britt, Kami Hamm, Makyah Black and Layna Vandiver all drove in runs.
Casey got things started when she singled on a 2-1 count, scoring one run. Hailey Prince was the winning pitcher as she surrendered one run on zero hits over two innings, striking out one and walking zero. Casey came in relief for three innings. Vandiver led Checotah going 3-for-3 at the plate.
Checotah rolled over on Beggs with a huge shutout win 12-0.Prince was 2-for-2 with 4 RBIs and a double. Layna Vandiver was 1-for-1 with a double and Casey and Aurora Madewell each went1-for-2 with 2 runs and RBI.
On Wednesday Checotah was defeated in the final inning by Muldrow 6-5. The game was tied at five with Muldrow batting in the bottom of the eight inning when an error scored the wining run for the Bulldogs. Kami Hamm and Addie Britt drove in runs in the fifth inning.
Katherine Anderson led Checotah at the plate going 2-for-3. Prince took the loss for Checotah from the pitchers circle. Prince went seven innings, allowing seven hits and six runs while striking out six.