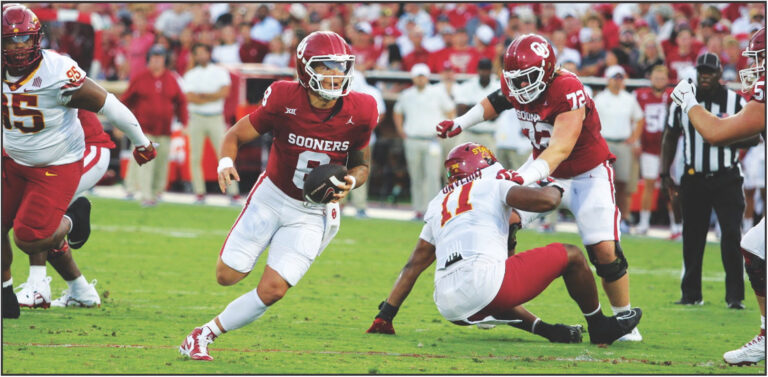 Sooner s hang 50 on Iowa State
The No. 12 ranked Oklahoma Sooners came away with a 50-20 win in Norman, which drops ISU to 2-3 (1-1 in the Big 12) on the season. Oklahoma improves to a perfect 5-0. The Sooners have scored 50+ points in three games this season.
It's the third game this season that the Sooners have hit the 50-point mark.
Oklahoma started the game fast as Iowa State quarterback Rocco Becht tried to convert on third and long but Billy Bowman picked the pass off and returned it 33 yards for the score.
When the Cyclones got the football back, they made it count. Becht hit Jaylin Noel from 51 yards out. It capped a 6-play, 75-yard drive. Iowa State was forced to convert on a secondand-12 and a third-and-18 on that drive to tie the game at 7-7.
OU gave up scores on four of ISU's first five possessions but didn't allow any points the rest of the game (covered eight possessions and 39 minutes). ISU gained 82 yards in the second half on 28 plays (2.9 yards per play). After Iowa State kicked a field goal with 9:06 left in the second quarter to cut OU's lead to 21-20, the Sooners outscored the Cyclones 29-0 the rest of the game.
The second half was all Sooners, as they used a well-balanced offense to control the football game. Sooner quarterback Dillon Gabriel finished 26 for 39 for 366 yards and three touchdowns (one interception). The game marked the first of his career with multiple rushing TDs (1 and 6 yards). OU outgained ISU 523 yards to 352.
Oklahoma gained 523 yards of total offense (366 passing, 157 rushing) tonight, its most total yards vs. Iowa State since the 2015 meeting (684 total yards [405 passing, 279 rushing]).
• OU's 366 passing yards were the most allowed by Iowa State since the 2020 season. Oklahoma improved to 80-7-2 all-time against Iowa State (19-2 in the Big 12 era). The Sooners' .910 winning percentage against ISU is the best by one Power Five program over another (minimum 50 games played). OU is now 51-3-1 in its last 55 games vs. ISU. Oklahoma held the Cyclones to only 82 total yards (2.9 yards per play) and zero points in the second half (ISU gained 352 yards of total offense on the night). OU has not allowed more than 376 yards of total offense in a game this season (Cincinnati gained 376).
Nic Anderson had a huge day. He made his fifth touchdown reception of his career (all this season) on a 39-yard play in the first quarter. He finished with two receptions for 56 yards. He is the fastest Sooner (10 catches) to reach five TD receptions in a season since 1949 (George Thomas Jr. had five TDs on six catches as a senior). Prior to tonight, the fastest to five TD receptions in a single season since 1949 was Nic's brother, Rodney Anderson, who had five TDs on 17 receptions in 2017.
Drake Stoops notched his fourth touchdown reception of the season and the 11th of his career on a two-yard play with :07 left in the first half to give OU a 40-20 halftime lead.
He tallied five receptions for 35 yards. He has at least four receptions in four of OU's five games this season and has 1,120 yards on 105 career receptions.