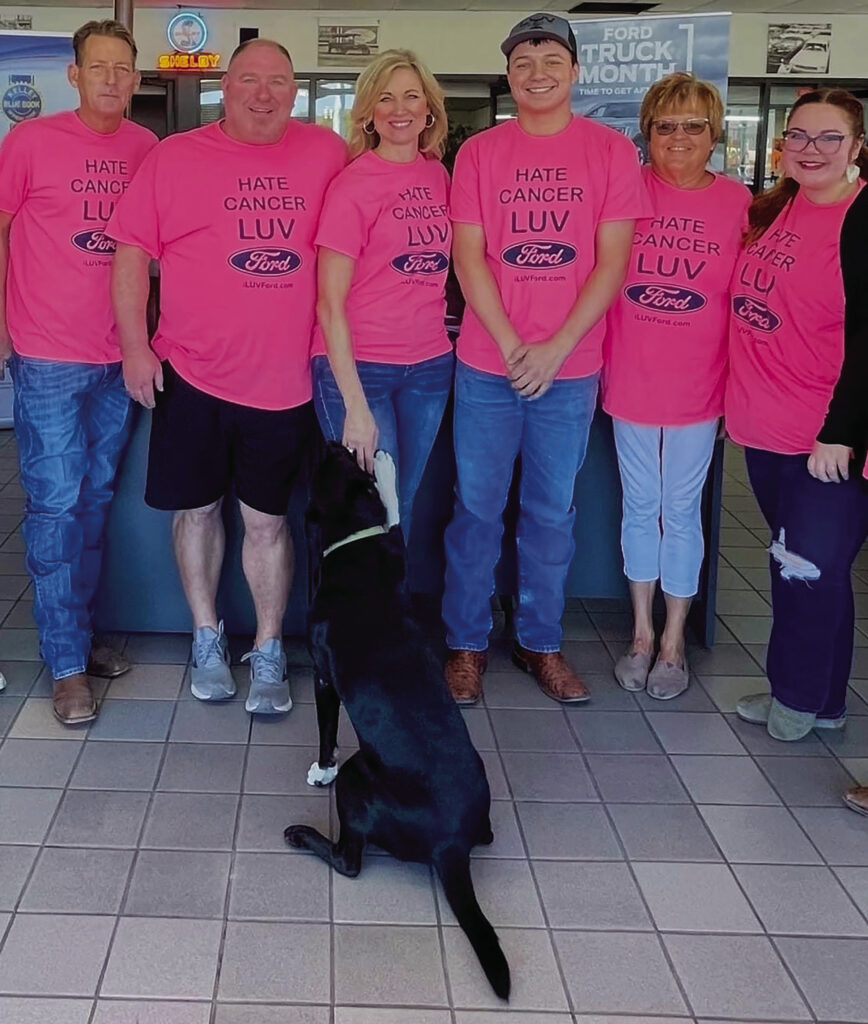 Turning It Pink
Luv Ford, area newspapers team up in support of Breast Cancer Awareness Month
October is Breast Cancer Awareness Month, a worldwide annual campaign to increase awareness and to promote regular screening and early detection of breast cancer.
Other than skin cancer, breast cancer is the most common cancer affecting American women, with 1 in 8 receiving the diagnosis of breast cancer during one's lifetime, according to the Center for Disease Control. Early detection provides the best chance of successful treatment and cure. Over 3.5 million breast cancer survivors are alive today thanks to advances in screening, detection and treatment.
To draw even more attention to the efforts to combat breast cancer, Luv Ford of Henryetta, in conjunction with three area newspapers, are encouraging the community to 'Think Pink' and show their support for those who have fought breast cancer and won, those who are in the middle of the fight, and the survivors of those who have succumbed to the dreaded disease.
The Okmulgee Times, Henryetta Free-Lance and the McIntosh County Democrat newspapers, all part of the Cookson Hills Publishers family, will have their publications and websites turned Pink during the month of October.
To show community support, visit the newspaper's websites (listed below) and click on the Luv Ford Pink Ad, and by doing so, you can enter to win a $100 gas card at the end of the month. Those entering must complete the form in order to enter the drawing.
According to Missy Nash of Luv Ford, the websites will 'go pink' Oct. 1. At the end of the month, there will be three winners – one from each market area – that will be selected to win a gas card.
The newspapers websites are: Okmulgee Times: yourokmulgee.com Henryetta Free-Lance: henryettafreelance. com McIntosh County Democrat: mcintoshdemocrat. com Luv Ford strives to be an integral part and a supporter of the community. Just recently, the dealership gave away $10,000 to a county resident.
As part of their service, Luv Ford will be sharing some information on their Facebook page that can help area citizens that were impacted by the tremendous hail storm last weekend that damaged lots of vehicles.
Nash stated that there were vehicles that were damaged during the storm, and new vehicles are being repaired. Other used vehicles will be part of their 'hail' sale during the month of October that will give customers extra savings.
"Because of the recent hailstorms, we've had a lot of calls from people asking for repair recommendations," she said. "Follow us on Facebook and we'll be publishing our recommended providers … Because there's a lot of fly-by-night ones scamming people out there."
Luv Ford is located at 821 E Main St. The service department is open from 7:30 a.m. to 6 p.m. Monday through Friday, and until noon on Saturday. The sales department is open 9 a.m. to 7 p.m. Monday through Friday and until 6 p.m. on Saturday.
Bryan McRae is the General Manager of Luv Ford.
– About Breast Cancer
• Each year in the United States, about 240,000 women get breast cancer and 42,000 women die from the disease.
• Men also get breast cancer, but it is not very common. About 1 out of every 100 breast cancers diagnosed in the United States is found in a man.
• Most breast cancers are found in women who are 50 years old or older, but breast cancer also affects younger women.