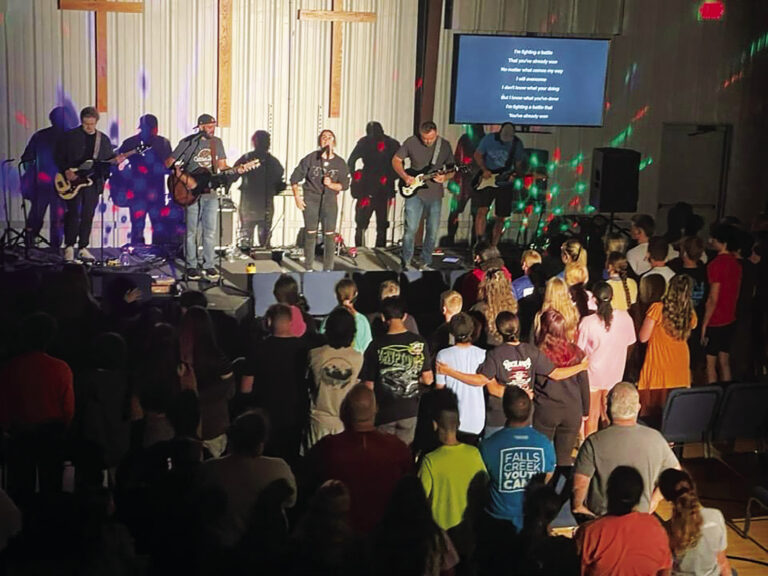 So We May worship together
A crowd of over 160 came together for an evening of community worship last Wednesday night. Several pastors and six youth groups came to hear the band So We May and Checotah Native Joe McKeen on Oct. 4. Though the venue had to change because of inclement weather from being outside at Veterans Park to being inside at First Free Will Baptist Church, there was still a down pouring spiritually as well as physically.
Youth pastor Bryce Watts and his wife Jaiden, welcomed all the youth groups as they came in from the rain and played some ball, ate hotdogs and enjoyed a free music concert and service.
"Overall I think it was a great night," Watts said. "It's not my job to save anyone. I'm just the planter and I think a few seeds were planted that night. Now it's going to take faithful leaders from each church to continue watering what was planted in these youth."
Spring Morrow, who helped promote the event, stated she was more than pleased with the turnout and knows it takes a village to raise children.
She wanted to make sure to thank everyone who helped to make the event so successful.
"Sally's donated buns. Walmart donated hot dogs and Watson's smoked them. Atwood's donated water and Jake McNatt donated bibles."
Morrow was also able to get two tickets to see the band, For King and Country, on Dec. 16 at the Tulsa BOK Center. Lucas Warren was the lucky winner of the tickets after several games of Rock, Paper, Scissors.
Several adults also joined the youth in the praise and worship which included several songs like the "Goodness of God" and "I Thank God."
The evening wrapped up with a short sermon from Watts and an altar call and challenge for all the youth to live for Christ.