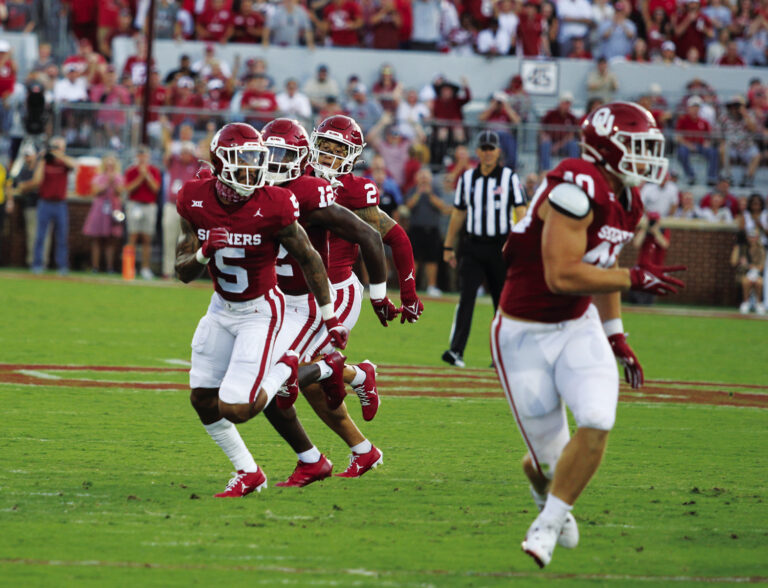 No. 12 Sooners stun No. 3 ranked Texas 34-30
Oklahoma quarterback Dillon Gabriel stood in the pocket until the last second to deliver a perfect pass to Nic Anderson in the corner of the end zone with .15 seconds left in regulation to defeat the Texas Longhorns 34-30 in the Cotton Bowl.
Gabriel completed 23 of 38 passes for 285 yards and ran 14 times for 113 yards and a score. The left-handed quarterback from Hawaii, who wore a customary lei on the field after the game, had transferred from UCF before last season, but missed the Sooners' 49-0 loss to Texas last October because of a concussion the previous week.
The Longhorns (5-1, 2-1) had erased a 10-point deficit and taken a 30-27 lead on Bert Auburn's third field goal, a 45-yarder with 1:17 left. Oklahoma then went 75 yards in five plays, including Gabriel's passes of 11 and 28 yards to Drake Stoops, the senior receiver and son of the former Sooners coach Bob Stoops.
Texas quarterback Quinn Ewers was responsible for all three Texas turnovers, with two interceptions and a fumble, but completed 31 of 37 passes for 346 yards. The Oklahoma defense was much improved as they picked off Quinn Ewers twice in the first quarter. They also made a goal line stand that kept the Longhorns out of the end zone. The game had its moments of trickery as Texas ran a fake punt in its own territory and blocked an Oklahoma punt for a touchdown to start the game.
OU had five quarterback sacks in the game and 203 yards rushing with Gabriel leading the team with 113 yards.