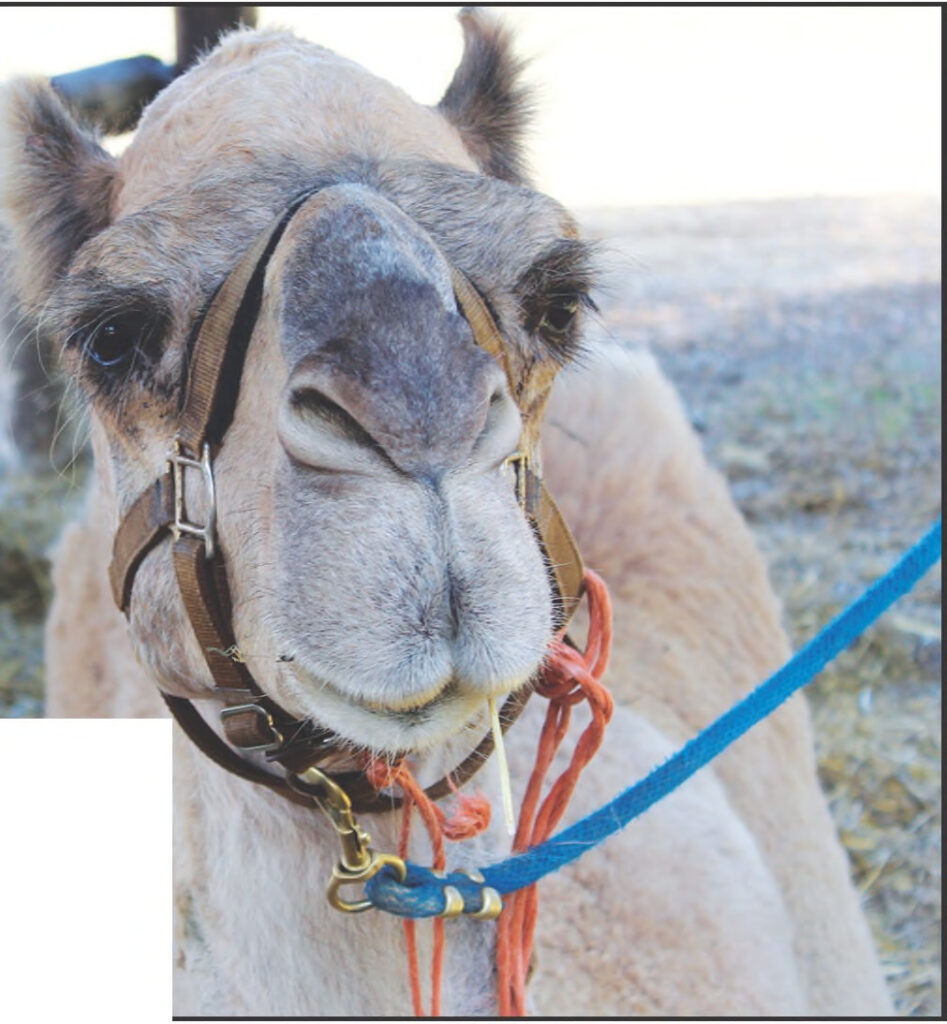 Clyde the Camel delighting Pumpkin Patch visitors
Josh and Tori Anderson of Hanna weren't for sure what they were going to do with a camel they bought more than three months ago, but it's just one of those things they thought they had to have.
Today, Clyde is a star at the Anderson's Pumpkin Patch at Lake Eufaula State Park.
He joins a menagerie of other people-friendly animals at Halloween-themed Patch, which is open daily through Oct. 31st at the site of the Lake Eufaula Stables on SH 150.
Besides Clyde, there are goats and ducks and pigs and donkeys and horses and ponies and kittens and more.
When not petting the animals, youngsters can play games, take train rides and, on Friday and Saturday nights, go on a Haunted Hay Ride.
Picnic areas are also available during the family festival.
The family fun event includes a pumpkin patch, pumpkin decorating and hay ride and more. Children can pan for gems, play on the playground.
The event also includes an archery range and darts competition.
This might not have come to pass had the couple not been working on a job in the area a few months ago and noticed the vacant riding stables, which are on property owned by the State of Oklahoma.
Tori said she saw a possible business opportunity.
Sort of like seeing a camel they were inspired to buy.
"It looked like a great opportunity," Tori said.
The Andersons own The Patch on Main Street in Eufaula. They also own a ranch and farm in Hanna, where they grow pumpkins and watermelons.
The family isn't averse to hard work.
Josh is a former steer wrestler. Their son, Traden, 20, is currently one of the top steer wrestlers in the world.
When time permits, the father "hazes" for his son – rides along side him during an event to keep the steer running in a straight line.
So in addition to their full plate of farming, ranching, rodeoing and The Patch in Eufaula, they added The Pumpkin Patch.
"Before, people had to drive for hours to find something like this," Tori said.
It took some time and lots of paperwork and background checks, but they were able to lease the property for a year.
"We had to do a lot of brush hog work, trees had fallen over. There was lots of preparation before we could even start working on (The Pumpkin Patch)," she said.
The hard work has paid off. More than 2,500 students were booked to visit during October.
"It's been a lot of work, and a lot of money. But hopefully, it will be beneficial for us. We're not trying to get rich off it but we would like to get the money back that we invested," she said.
The Pumpkin Patch is open 9 a.m. to 7 p.m. daily and Friday and Saturday 9 a.m. to 11 p.m.
Price of admission is $10.
The Haunted Hay Rides are only open Friday and Saturday nights.
If this venture is a success, Tori said next year they will add a haunted house.
They also might bring back trail rides.
"People have contacted us about it. With my husband and son a cowboy, we're thinking about it," Tori said.
There are many possibilities for the property.
They're looking ahead to the Christmas holidays.
"We were thinking abut buying a reindeer, but they are too expensive," she said. Business has been brisk since The Pumpkin Patch opened.
Word of mouth and advertising has helped.
Business has been so brisk, they could use some volunteers.
"We need about eight people to help, especially for The Haunted Trail Ride."