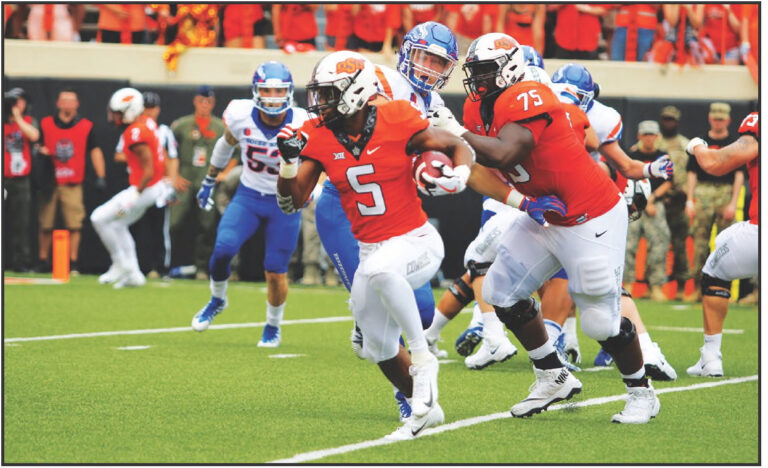 Oklahoma State Cowboys rally late to defeat Kansas Jayhawks
Cowboy running back Ollie Gordon II ran for 284 yards from scrimmage and scored two touchdowns to help Oklahoma State defeat No. 23 Kansas 39-32 on Saturday. Gordon ran for a careerhigh 168 yards and caught six passes for a career-best 116. He became the first Oklahoma State player since Gerald Hudson in 1989 to have at least 100 yards rushing and receiving in a game.
Quarterback Alan Bowman passed for 336 yards and two touchdowns, Rashod Owens had career highs of nine catches and 112 yards and Brennan Presley caught a touchdown pass and ran for the go-ahead score with 2:32 remaining for Oklahoma State (4-2, 2-1 Big 12). The Cowboys gained 554 yards to win their second straight game as they swept both universities from Kansas.
Kansas (5-2, 2-2) was without quarterback Jalon Daniels for the third straight game because of a back injury. Jason Bean stepped in and passed for career highs of 410 yards and five touchdowns, but he threw two interceptions.
Bean rallied the Jayhawks by throwing four touchdown passes in the first half. The fourth, a 49-yarder to Quentin Skinner, put Kansas up 25-24 — a score that held up until the break. Bean completed 13 of 17 passes for 274 yards and four touchdowns in the first half. Bowman passed for 261 yards and two scores for the Cowboys while Gordon had 177 yards from scrimmage and two touchdowns in the first two quarters. Alex Hale missed a 43yard field goal with 9:38 remaining that would have put Oklahoma State up 33-32, but the Cowboys scored in the closing minutes after a Kansas turnover. Presley went in motion, took the handoff and scored from 6 yards out to put the Cowboys ahead for good. Kansas got the ball down 39-32 with 15 seconds remaining and no timeouts and could not mount a threat.