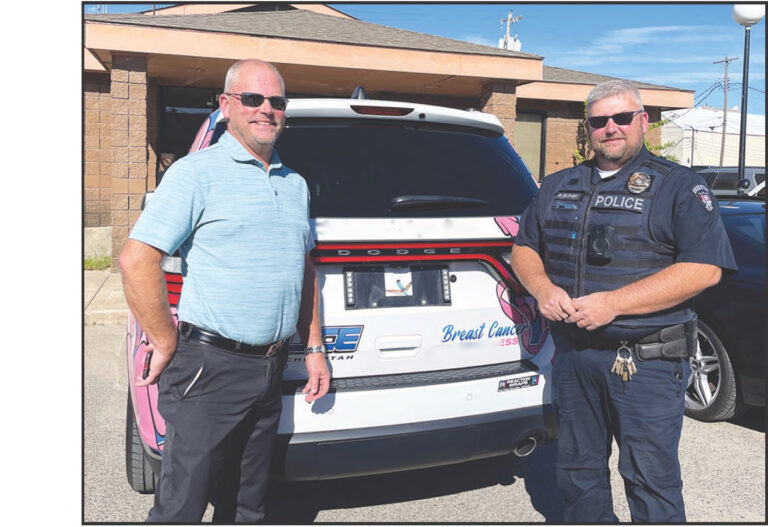 Breast cancer awareness wrap dedicated to the late Joyce Glover and local survivors
Local police chief Darren Glover is no stranger to breast cancer. He lost his mother, Joyce Glover, to breast cancer when she was only 59.
So when lieutenant Marvin Harrell was getting new awareness wraps put on two police vehicles he wanted to dedicate the Breast Cancer Awareness car to Darrens mother. Then when Harrell went to pick up the vehicles last week, he found out that part of the wrap was donated by Reaction Wraps to the police chief. Family and coworkers were waiting to surprise Glover with the special dedication and he was moved to tears when he saw the words "Dedicated to Joyce Glover." When asked if he liked it, he exclaimed "I like it. I like it a lot." Then he had to walk away to shed a tear for the mother he lost in April , 2006, from this dreadful disease that affects so many women and even some men today.
Harrell was glad to have the police vehicles wrapped (one for breast cancer awareness and the other for autism awareness) that affects many in the McIntosh County area.
Several breast cancer survivors in McIntosh County include Iris Park who was diagnosed at 62 and is now 22 years cancer free.
After being diagnosed in 2013, Dena Kay Miller, who is a tenyear survivor, is excited because she just got off of her medications. Her motto for herself and others is to "Keep fighting! Don't ever give up! You've got this!"
Miller's mother, Sandra Davidson, has also been a breast cancer survivor for five years, after being diagnosed in 2017 right behind her daughter's diagnosis.
Lisa Rodebush was diagnosed in July, 2021 at age 50.
"I had just turned 50 in March of 2021, and had gotten bloodwork done, had a mammogram and was going to the gym. I had a real positive attitude about turning 50 and staying healthy. Then in July my dog jumped up on my lap and put her paw on my chest. As I slid my hand under her paw I felt something on my breast so I went back in for a mammogram and they found nothing. So they did an ultrasound and they actually found two spots. That's why I believe it's so important to do monthly self-exams on your own breasts. I went through a year of treatment because I had an aggressive cancer called HER2 or triple positive breast cancer which required a more aggressive treatment. Now I have a clear report so God is good."
In 2012 Sherry Layman was 46 when she found a lump in her left breast and found out she had stage 3 breast cancer. After a long journey she finally heard the words she had fought so hard for – cancer free.
Teri Fields was 53 when she was diagnosed in 2021 too and has gone through two years of treatment to finally be cancer free also.
Cheryl Sasser was only 35 years old when she found a lump on her breast. She went to one doctor and then went to another doctor for a second opinion before she went through the procedure and had surgery. Now she is 31-years cancer free and couldn't be happier.
Charlene Ballard went for a routine mammogram in Feb. 2010 and they found her breast cancer. She was 53 years old and had invasive ductal breast cancer, stage 2 and it was aggressive. She had a cyst removed from her left breast months prior to finding the cancer in the right breast. So she underwent surgery to remove both breasts and also did implants the same day. However, she had to follow up with chemo for one year and 33 treatments of radiation but she believed in keeping a positive at-titude to help beat her disease.
"It's really amazing all the different forms of breast cancer. It can be categorized in several ways. Mine was protein based instead of hormone based but since it runs in my family it may also be genetic. They just haven't studied that gene yet. Though I wasn't expecting to find cancer at such a young age, I was determined to stay positive and beat breast cancer and that's what I did. I truly believe staying positive is part of the healing process."
There are many forms of breast cancer. An easily identifiable characteristic of breast cancer is the type of cell it's formed in – whether ductal carcinoma that forms in the cells lining the milk ducts or Lobular carcinoma that's formed in the milk-producing lobules. Another characteristic of breast cancer is whether it invades the surrounding tissue or stays where it originally formed. This is called noninvasive or invasive.
Symptoms of breast cancer can vary also. Symptoms can include:
• A lump or thickening of breast tissue you can feel with your fingers • Breast swelling or significant changes in your breast shape or size
• Changes to the skin on your breast, such as redness, dimpling or irritation • Nipples turning inward or nipple pain
• Nipple discharge other than breast milk Though breast cancer is most often found in women, men can also get breast cancer too. One out of every 100 breast cancer diagnosed in the United States is found in a man. About 42,000 women and 500 men die in the U.S. each year from breast cancer.
This is why it is so important to be familiar with how your breasts look and feel by doing self-exams and yearly mammograms or ultrasounds to rule out possible breast cancer. They literally can make the difference between life or death.
"Today we are so thankful for all these breast cancer survivors," asst. chief of police Harrel said. "And we are also grateful for those who fought a good fight and are remembered for their bravery."