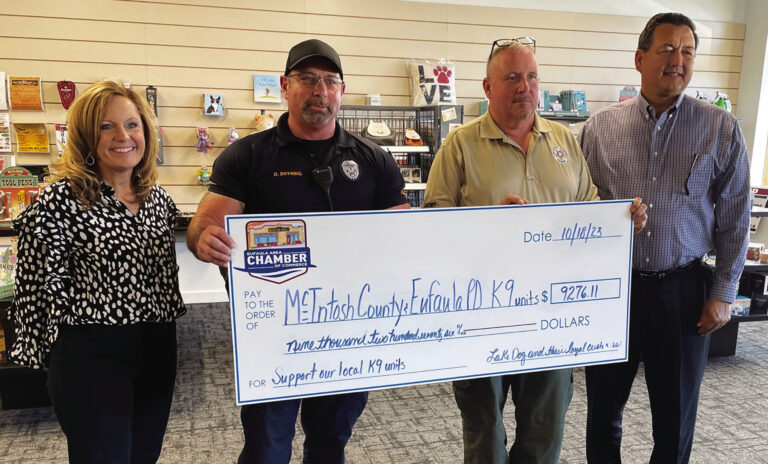 Law enforcement K-9 gets boost with donations
The Eufaula Community and generous customers of Lake Dog raised $9,276.11 to support the K-9 Units for McIntosh County and Eufaula PD, Lake Dog owners John and Shari Wilkins announced last week.
"Officers have limited funds so we raised money to help pay for their veterinarian bills, food, tactical gear and other needs," Shari Wilkins said.
In addition, Lake Dog coordinated events for the Eufaula Police Department to raise funds for a K-9 Unit. The goal is $20,000 to purchase qualified dogs and provide the training for their handlers.
Chief of Police David Bryning with the Eufaula Police Department announced that $17,156.15 has been raised for the Eufaula PD K-9 Unit.
"We have one more K-9 fundraising event by Hard Cash Pawn on November 3 (selling smoked pulled pork meals for $8, delivered by the Eufaula PD)," Shari said. "This has allowed the Chief to move forward with two K-9 Officers and dogs.
The City of Eufaula will have Officer Paul Brown with his dog, Kilo, and Officer Jordan Pryor with his dog, Niko.
"They will begin handler training on January 2. They will be fully certified K-9 handlers and should be up and going by the end of January," Shari said.
John Wilkins noted that this is the third year of their annual drive to support K-9 officers.
"We're getting better each year," he said. "Each year the numbers are getting better."
Many community members, visitors and local businesses played a huge role in making this happen. Thank you to the following local businesses: BANK OF EUFAULA BEALE Bee Well Family Healthcare BELT 40 CHURCH OF GOD DUNN COUNTRY CHEVROLET E'S HIDEAWAY FARMERS STATE BANK FOX PLACE Dr and Mrs. Ed Henslee HIGH STREET COFFEE HOPKINS HUNN BLACK & MERRITT Lake Dog and Their People LAST STOP LEGACY ON MAIN Mama TIGS Fired Pizza MCALLISTER INSURANCE MCQUAY CONSTRUCTION NAPA Eufaula Auto Parts NICHOLS ONCE A MILNER Food Truck PHYSICAL REHABILITATION services PIONEER BUSINESS INVESTMENT R. BURNS R. JASON BURNS RHONDA GODWIN SAM WAMPLER'S Freedom Ford SHELTER INSURANCE STITES HOME FURNISHINGS VFW Zach & Angela Mc-Quay