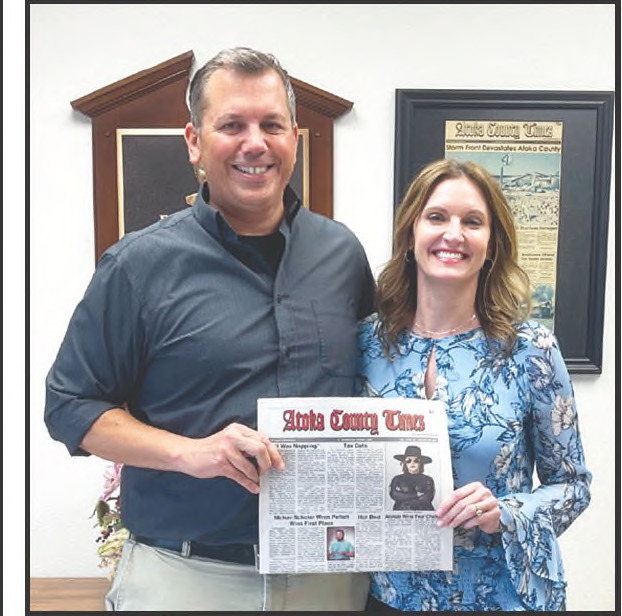 Mayos purchase Atoka County Times, Stigler News-Sentinel
Jeff Mayo, publisher of the Eufaula Indian Journal and the McIntosh County Democrat, has shown his optimism for the future of community journalism by purchasing the Atoka County Times in Atoka and the Stigler News-Sentinel in Stigler.
Printer's ink has flowed through the veins of the Mayo family for generations.
Jeff and his brother, Jack Mayo, are third generation owners of Cookson Hills Publishers, Inc., which, until recently, published seven newspapers.
In addition to the two newspapers in McIntosh County, the family owns the Sequoyah County Times in Sallisaw; Vian Tenkiller News; Eastern Times-Register; Okmulgee Times and Henryetta Free- Lance.
And now the Atoka County Times and Stigler News-Sentinel has joined the family, bringing the total members to nine community-oriented publications.
The brothers purchased the weekly newspaper in Atoka County from Louise Cain. Cain is retiring after publishing the Atoka County Times for more than 50 years. They purchased the Stigler News-Sentinel from longtime newspaper owner, Linus Williams.
"I love community newspapers and I think Atoka is a great place to provide compelling community journalism to our readers," Jeff Mayo said. "I want to inform and promote our communities and help provide readers with information about what is going on in their local government and schools."
The new owners are third-generation newspaper publishers of the Sequoyah County Times in Sallisaw, but their experience in the industry goes back even further.
Jeff and Jack Mayo are the fifth of six generations in printing and publishing.
Their great-greatgreat- great-grandfather was the first printer in Indian Territory and later started the first newspaper in Fort Smith, Ark.
Their grandparents, the late Wheeler and Florence Mayo, started the Sequoyah County Times in 1932. Their father, the late Jim Mayo, was publisher from the early 1970s until he became publisher emeritus in 2016.
Jeff Mayo's wife, Beth, serves as business manager of the company, just as his late mother, Becky, had until her retirement in 2020.
Jeff received a degree in community journalism from the University of Kansas in 1994. He continued his education at the University of Minnesota Law School where he received his juris doctor degree in May 1997.
He married Beth in October 1999 and the couple moved back to Oklahoma in 2003 to work at the family newspaper in Sallisaw.
Jeff and Jack bought the Vian and Roland newspapers in 2005, Eufaula and Checotah in 2008, and Henryetta and Okmulgee in 2014.
Jack Mayo retired after a 25-year career at Microsoft and now serves as CTO of Cookson Hills Publishers, Inc.