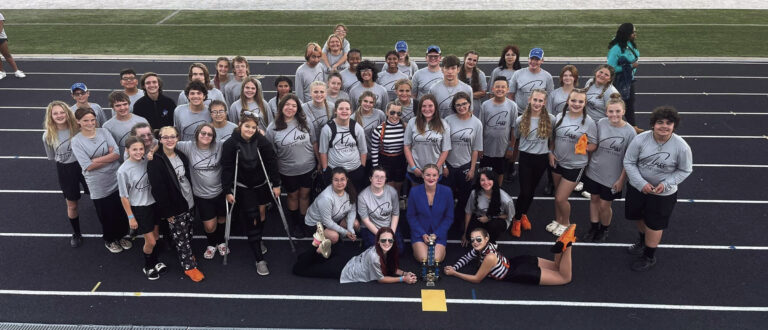 Class of Checotah marching season ends on high note
The Class of Checotah traveled to Harrisonville, MO, for their last marching contest and literally ended their season on a high note -1st Place and Overall High Visual in their class.
Band Director Ashley Hackler and Asst. Band Director Alex Warrior took to social media with their excitement.
"Congratulations to the Class of Checotah on a fantastic last contest," Hackler said. "Missouri contests peeps are so nice. It's refreshing! Thank you to all the hard working parents and family who help make sure this program is successful."
Immediately following their last win Checotah came back to host their own contest – The Checotah Superior Contest.
"I'd like to congratulate everyone on a great day including all the tremendous help we had from our Class of Checotah band members, directors, parents, and school employees," Hackler said.
"Thank you to East Central University (ECU), Southeastern Oklahoma State University, University of Tulsa, and Conner's State College for joining us today and encouraging our kids to further their education, especially in music. Also thank you to the ECU Percussion for playing for us before our final presentation of awards."
Results of Checotah Superior Contest competition: High Point Soloist (a tie!)
Warner – Sydney Coleman Seminole – Jacey Davis
High Point Ensemble
Konawa – Konawa TSteppers Fan Favorite Coalgate
Superior Category (made a superior rating at regional contest) 1st – Fort Gibson 4A 2nd – Catoosa 4A 3rd – Warner 3A 4th – Stigler 4A
Open Category (made something other than a superior rating at regional contest) 1st – Heavener 3A 2nd – Coalgate 3A 3rd – Henryetta 3A 4th – Haskell 3A 5th – Mounds 3A Outstanding Visual Fort Gibson
Outstanding Music Fort Gibson
Overall High Point Band of the Day Fort Gibson "Thank you to our judges: Allen Correll, Jerry Cooper, Dale Barnett, and Keri Bates. We couldn't have done this without you all."