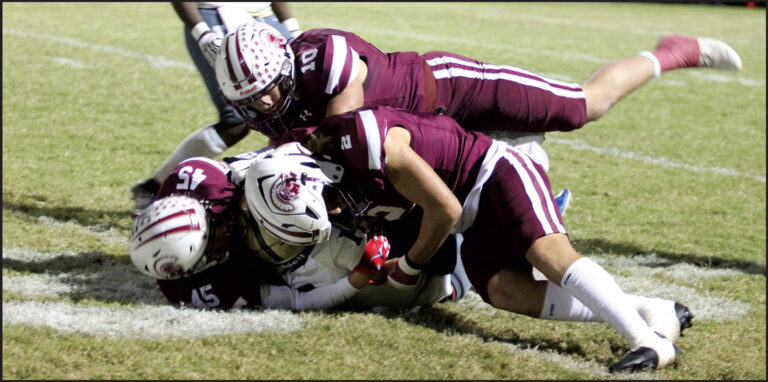 Ironheads corral Hugo Buffaloes
The Eufaula Ironheads improved their record to (72, 6-0 District 2A-6) after a dominating 45-12 performance over the Hugo Buffaloes Friday night at Paul Bell Stadium at Eufaula. Eufaula is 11-0 versus Hugo. The Ironheads scored first on a Ledger Folsom 44-yard touchdown run to take a 7-0 lead. But Hugo answered the call with a long 67-yard touchdown pass to make the score 7-6 after the Buffaloes failed 2-point conversion. After that it was all Eufaula as Folsom scored on runs of two yards and nine yards to make the score 21-6. The second quarter was nothing but a highlight film for Eufaula as they scored on a Pick-6 as Kaden Rice intercepted Hugo on their first possession of the second quarter. The Ironhead defense and special teams then forced three fumbles that resulted in touchdowns for Eufaula as they took a 42-6 lead.
The massive defensive and offensive lines played with physicality and toughness and steamrolled the Buffalos and controlled the game. Rice finished with a 48-yard Pick-6, fumble recovery and blocked punt.
The Ironheads offense has improved with each week and their run game proved it as Peter Lee rushed for 62 yards on five carries for two touchdowns. Folsom had a huge game as he scored three touchdowns for a total of 77 yards on six attempts and was 4-of-11 for 31 yards.
Bryan Lynn capped off Eufaula's last drive with a 19-yard field goal to go into the halftime break up 45-6.
Eufaula ran the football for 234 yards on 33 carries and finished with 265 total offensive yards.