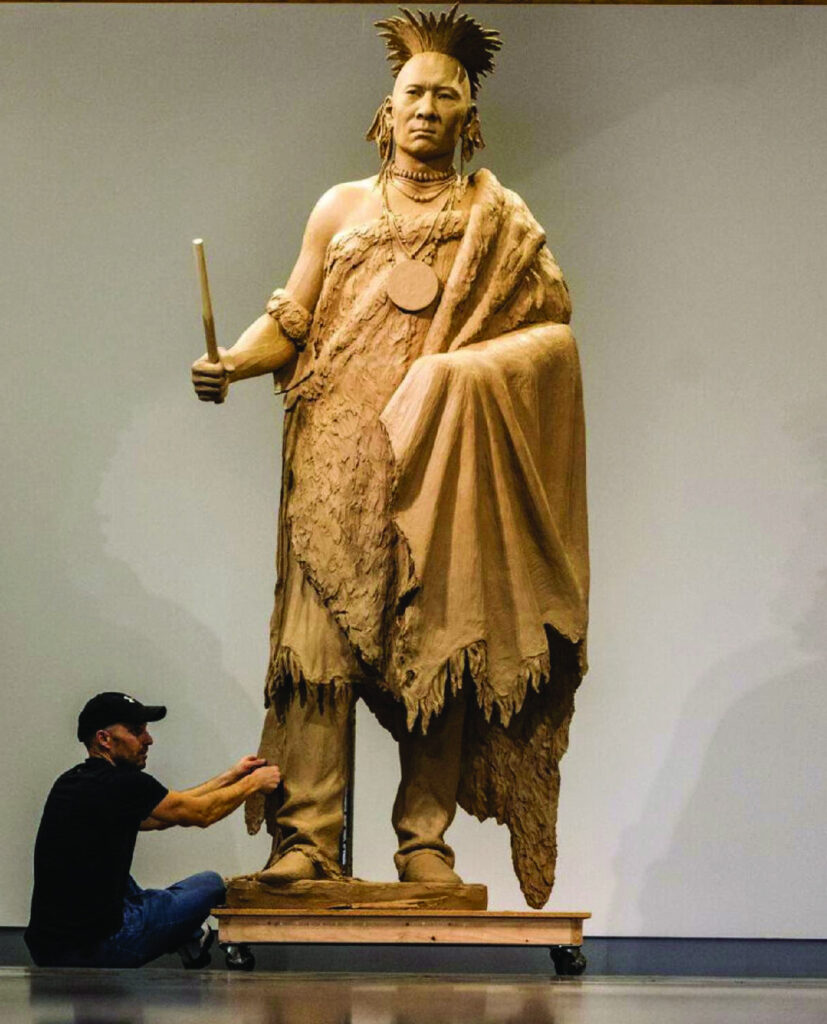 Oklahoma Music Hall of Fame announces final artist selected for Merle Haggard bronze sculpture
Singer had Checotah connection
MUSKOGEE – After conducting a national search for several months, the Merle Haggard Statue Committee made up of community and industry leaders in Muskogee, Oklahoma, have finalized their selection for the artist to create this work of art.
Haggard was born in Bakersfield, California, in 1937, but his parents, Jim and Flossie Haggard, owned a farm near Checotah before leaving the state in 1935.
The artist receiving this commission is Benjamin Victor, currently living in Boise, Idaho. Benjamin has become known nationally for his beautiful work, specifically with his unique brand of detailed results on skin and faces.
Benjamin, originally from Bakersfield, only a "stones' throw" away from where Merle Haggard lived in the same city. Five out of his eight siblings have become skilled musicians in a variety of musical genres.
Ben said, "I was raised listening to Merle's captivating songwriting and remarkable voice as far back as I can remember."
In his first semester of art school, Benjamin took a required sculpture class. He said, "as I picked up the clay for the first time, the Lord manifested a gift in me that is hard to explain with words."
Victor talks of how much support he received from his professors very early on in school and from his family and the almost automatic drive he felt to create this work. His finished pieces can be found in more than 50 public spaces from the U.S. Capitol in Washington, DC to Rome, Italy.
Chairman of the Merle Haggard Statue Committee for the Oklahoma Music Hall of Fame, Derek Gibson stated, "Our committee has had the vision to honor Merle Haggard with a memorial statue at the Civic Center in Muskogee since it formed in 2015. We are proud to have raised the funds privately by likeminded "Okies" and are ready to roll! In my opinion, Ben Victor is the finest sculptor today to capture Merle in a way that will honor Merle for generations to come."
Merle Haggard has become a legend in country music and has left behind a legacy for Muskogee, Oklahoma because of his great song "Okie from Muskogee." Recorded at the Muskogee Civic Center on July 17, 1969, the song has taken on an internationally recognized life of its own.
"Okie from Muskogee" has been performed by musicians throughout the world in pubs in Ireland, on bluegrass radio stations in Australia, and covered by scores of recording artists.
The site selected for the sculpture to reside will have a view of the Civic Center where the iconic song was recorded and you can see "old glory waving down at the courthouse, while next to the finished statue. The project is expected to take about 12 months to complete.
When submitting his work and story for this commission Benjamin said he was humbled to apply for this project. It was clear that he had a lifetime of great respect for Merle and felt everything he has done thus far has prepared him for this important work.
Benjamin Victor's gallery of work can be seen on his website benjaminvnvictor. com.