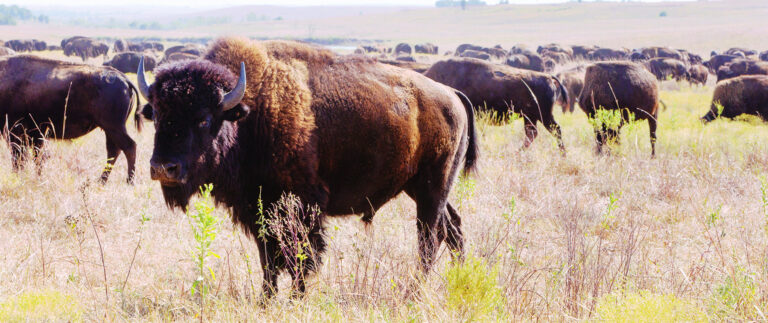 Tallgrass Prairie marks 30 years with bison
PAWHUSKA – Thirty years later, bison still are making the world's biggest little postage a bigger deal than ever.
The Nature Conservancy's Joseph H. Williams Tallgrass Prairie Preserve, celebrating the introduction of 300 head of bison there 30 years ago this month, has more than survived.
It's home to a managed herd of 1,800 bison that thrive on a relative postage stamp of 40,000 acres, plus 11,700 acres of conservation easements that remain out of the more than 160 million-acre sea of grass that once stretched from Canada to Texas.
Recently featured in a Ken Burns documentary, "The American Buffalo," and providing stunning backdrops for the acclaimed just-released Martin Scorsese film, "Killers of the Flower Moon," more eyes are on Osage bison than ever before.
For Osage Nation Principal Chief Geoffrey Standing Bear, the event with about 100 people at the preserve headquarters marked a respite from an international movie promotion tour with Hollywood notables. He wasn't in London or Mexico City anymore, but the fact that international eyes, and no doubt future tourists, followed him home to the land of the Osage was lost on no one at Wednesday's celebration.
He seemed relieved to breathe the prairie air, share stories of the bison, and honor those whose influence brought the bison home. That included himself, as he was surprised by other honorees who received traditional Osage blankets.
Standing Bear said the spirit of the Osage and the land is always with him, no matter where or what the conditions, so it is easy to share that spirit internationally.
For the local crowd, he related tales of the wind on the Tallgrass ebbing and flowing with ceremonial dancers and a humorous bit about a herd of bison that photobombed a session with the five surviving chiefs, who stood for their photo as the bison moved in around them.
"Those are magical moments; if you just step back and accept them, you can see it," he said.
Memories and wonder
Standing Bear's expression, and that of others, was rapt as Tulsa historian and Tallgrass Visions author James P. Rhonda relayed a personal story of oncoming hearing loss but shared an audible and indelible image of thunderous, primal, guttural prairie roars of thousands of bison heard by explorer Merriweather Lewis in the summer of 1806 and compared that to an experience Rhonda said a century later on the Tallgrass.
The preserve's first director and longtime spokesman, Harvey Payne, said the preserve is a success story created mostly by local people who, in some cases after initial solid objections, came to understand the value of that postage stamp and the majestic wildlife that could return to roam there.
He said it's touching that the preserved lands and its facilities are all products of private donations. An example of private conservation funding at its finest, he said.
"From little school kids doing a class project and raising $25 or $50 and sending us a check with a touching letter to the biggest corporations, they all made this happen," he said. He often quotes Gen. Norman Schwarzkopf, a special guest for the first bison release, who then said, "This is truly a gift from the American people to the American people.
Jamie Williams, recalling his youth and the efforts of his father, Joe, reminded celebrants that the man whose name lives on with the preserve was not interested in notoriety but was a quail hunter and admirer of nature who happened to have a particular knack for business and advocacy.
Nature Conservancy of Oklahoma Director Mike Fuhr remembered his first arrival on the scene from Arkansas 19 years ago, a sunrise greeting surrounded by a herd of bison.
"A pretty neat start," he said.
Of science and spirit While bison are a central focus of the preserve, he said the goal is researching and understanding a balanced system with the bison, grazing, fire, the elements, and everything else, from birds and insects and plants to bison and climate.
Preserve manager Tony Brown was one of the Pawhuska Elementary School children who attended the first bison release. He said he remembered having fun but was too young to understand what it was all about. However, he was hooked into a different study path when he returned to work as an Oklahoma State University chemistry student in the summer of 2004.
"Once you learn what you have and what's here, you're like, 'wow,' this is pretty neat. This is something worth keeping. This is something special here," Brown said.
Bison management has driven agriculture and soil science research through various burning and grazing regimes, and the preserve's cowboys have learned to let bison roam.
"We take a hands-off approach and let them do their thing," he said. The herd's health is good, and he estimated that, even with drought conditions, an average of 400 to 500 calves were born again this year, he said.
Osage elder Eddy Red Eagle, also recalling his experience at the first release, said the experience of living with generations of the bison is for the preserve now as it was for the Osage and their doctrine for centuries.
"They told us in the teaching, in the sharing, just look at that, just take a look, at it, study it, ponder on it, watch it, and then move along with it, and the bounty of Mother Earth will come your way, and you can move then, into the future," he said.
The Oklahoma Ecology Project is a nonprofit dedicated to in-depth reporting on Oklahoma's conservation and environmental issues. Learn more at okecology.org.