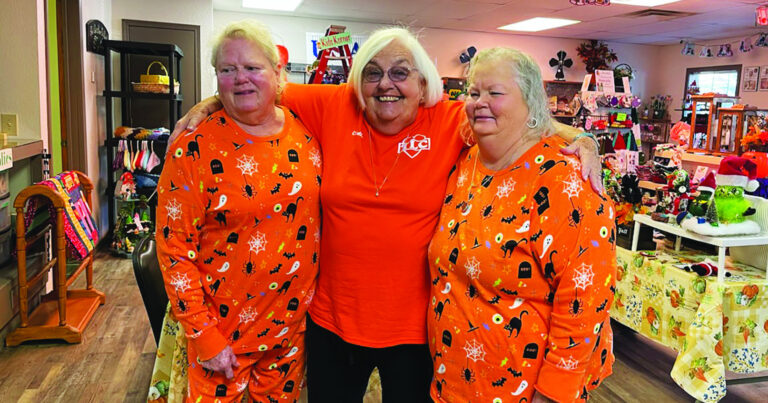 Texanna Lady Crafters News
We held our business meeting Oct. 20 with Karen Kranz leading the meeting with our pledge to the flag. Claudia did our minutes and Lisa gave the treasurer report. All were approved.
Can you say, "brain freeze?" Got on here to do my monthly report and found that my last month's report was frozen and my computer is graveyard dead. Well after an hour of talking me through my heart attack, my friend Trish at TNC Computer brought the dead back to life. I have to give Trish some stars and I highly recommend her for your computer needs. She is so smart and reasonably priced AND talked on my level to get me back online. Give her a call, she's in Checotah (1-918-6087710).
I want to apologize for last month's birthday announcements being lost in the wherever, so I guess I will catch up now. Happy Birthday to Cathy Collins and myself for September and Shannon Reynolds, Sharon Burns and Marie Davis for October. No birthdays are in November.
And as usual, Deena Carter delighted us all with her amazing cakes. Since Cat and I both love purple, ours was a win-win. Deena, you do beautiful work. Thank you so much from all of us at TLC.
Ok back to TLC. Well, I definitely want to give a Big "thank you" to all our friends and neighbors for making our Bake Sale another big success. Of course, Ms. Carol Barber, needs to be patted on the back for standing out in the wind, holding one of our pies up to catch everyone's attention to notice we were having a bake sale. We made over $2000. And pretty much already spent it.
We made a donation to the 'Backpack Buddies" for weekend lunches and holiday meals for the holidays, to the Porum Volunteer Fire Department, and to the Toy Soldiers group and Texanna Elves. All great organizations that help kids.
We are doing our 2024 directories and if you would like a new picture in it, contact Lisa Smart. Make sure your information is current and up to date. Please, try to have this finished by Dec. 15 along with your DUES. By-laws were changed to have dues in by Dec. 15 of each year so all information can be validated.
We will be taking our group picture at the December Christmas dinner.
We had so many wonderful ideas for our show and tell, I can't wait to get into production on them.
We have tons of Christmas, Thanksgiving and even some Halloween items. Remember we usually have a sale on all items after each holiday, so, if you see something and are not able to get it now, come in and get it for next year.
We are going to try to label each section of our shop so you can find items of your interest earlier. Babies, Sports, Doggies, Kitchen, and Man-Cave. Let us know what you think.
I hope you had a great Halloween and are ready for this cold weather coming. Smile at a stranger, make their day or just wonder what you're up to.
Again "Thank You" Mcintosh County for helping us help others.
Did you know we have a Facebook page?
Go by and look at all the new stuff we are making. We are located at 419098 Texanna Road.
Look for the little green alien in front of our store. Come by and see us. We are open on Friday and Saturday from 10 a.m. to 3:30 p.m. Look for the Butterfly board. Stop and take a picture with your family. It's free.