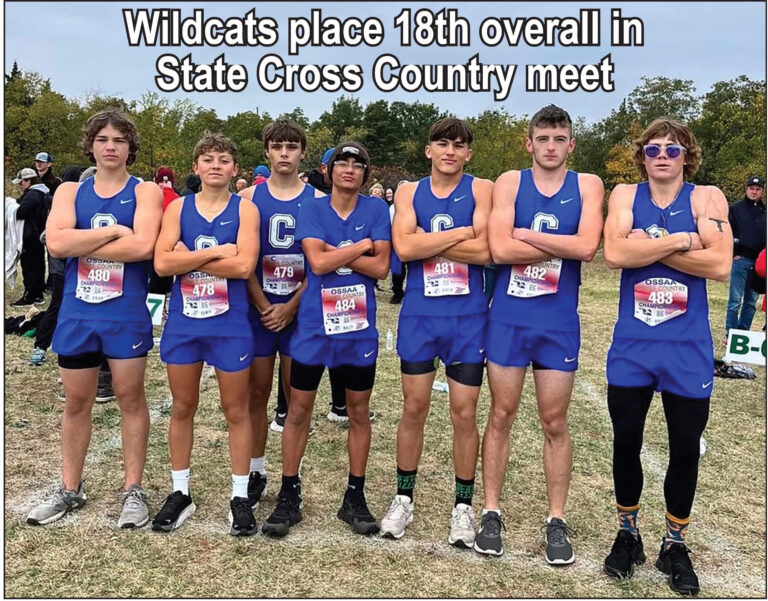 Wildcats place 18th overall in State Cross Country meet
The Checotah Wildcats placed 18th overall as a team in the 2023 OSSAA State Cross Country meet held at Edmond Santa Fe High School on Saturday.
In the boys race Levi Haynes of Community Christian won Top Individual with a time of 16:21.12 followed by Ashton Hale of Casady High School with a time of
16:29.24 and third place was Landon Eubank of Dickson High School with a time of
16:32.23.
The Wildcats was led by Izayah Tyde, who placed
55th overall with a time of
18:19.71.
111th place Cy Hunt
20:10.94
114th place Hudson Pollard 20:19.28
120th place Wes Brown
20:27.60
133rd place Jaxon Gearhart
21:04.61
139th place Mitchell Tanner 21:19.30
142nd place Jace Clark
21:30.15 In the Girls race Ryleigh Hodges of Metro Christian won Top Individual with a time of 12:02.36 followed by Ava Carney of St. Mary was second with a time of 12:18.56 and third place was Jaden Alexander with a time of 12:21.46.
Checotah's Ruby Folkner placed 41st with a time of 13:48.26 and Jule Schweda placed 90th with a time of 14:53.90.
"We had a chance to run with the best of the best!! It was a great opportunity! We all had our PR(personal record) yesterday. I'm really proud of my boys!! They worked hard all year, and never complained! They're hard work paid off on getting to state! Great group of boys. They have a team GPA of 3.54. They work hard in everything they do. We lost one senior Mitchell Tanner. We will be back next year bigger and stronger. Ruby and Jule did a great job. They had some tough competition and didn't back down. I'm so proud of both girls. I know Ruby wanted to make it to state so bad after being so close last year. Very proud of the entire team and a wonderful group to coach," Checotah head coach Jason Dowdy said.