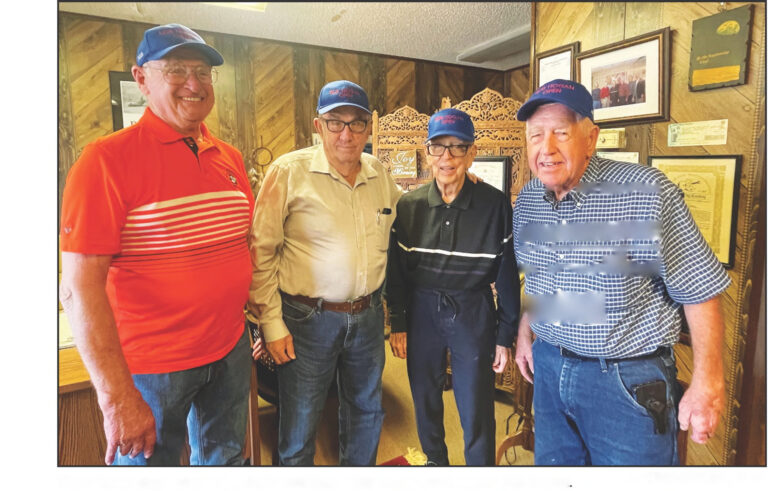 Bob Hogan Open continues
Former scouts honor former scout master
At 96 Bob Hogan has been around and done a little bit of everything. Most locals know Bob from his many years of managing Sharpes Department Store in Checotah but before then Bob lived in Holdenville and was the scout master of a local Boy Scout troop in the 1950 s.
Many of those former scouts, who were just teens then, grew up to be plant managers, city managers, and prominent businessmen in their own communities. One former scout, George Kernek, even became a professional baseball player for the St. Louis Cardinals. He passed away last year at age 82.
Today some of these men, Bill Anderson, Gayle Frederick and Steve Winningham, still drive in from Holdenville, Jenks and Sulphur, to go to breakfast and pay tribute to Bob for being there for them while they were just boy scouts with big dreams. There first get together was a simple dinner at June's. Then several of them decided to come together yearly to honor Bob and see each other. They even started a Bob Hogan Golf Open at Fountainhead over 15 years ago. Though some don't golf, they all still come to watch and cheer on those who do like to play golf.
Bob played golf until he turned 90, and he still likes to get out and go with these former young men, now all in their 80's.
Though some of these former scouts are gone now, the Bob Hogan Open will always be a classic and a reminder of a great scout commander who made quite an impression on a Boy Scout troop from Holdenville.
"We had our last Bob Hogan Open this spring and will continue it until the last man is standing," Bill said.